Leadership
&

Management Classics for Evolving Leaders—Learning Cohort, March 2, 9, 16, 23

News and Events / Produced by TOW Project and Partners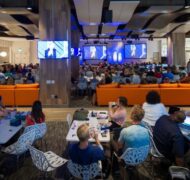 Thank you for your interest! Due to demand, the Leadership and Management Classics cohort is full and registration is now closed. Be sure to sign up for our newsletter to stay informed about our latest resources and learning opportunities.

The best leaders never stop learning. They read broadly, seek mentors, and self-reflect. But often leaders face steep hurdles in their developmental pursuits. The complexity and demands of organizational leadership require constant attention, and distractions abound in the guise of instant wisdom promised by social media and cursory how-to articles. We want to move beyond scratching the surface to delve into practices that have stood the test of time and are based on research and resonate with wisdom. In this group, we will mine and reflect on the best of classic leadership and management literature—a repertoire that can re-center our thinking and help us discern improvements we can make today.
Three leaders will facilitate this reading group: Will Messenger and Leah Archibald of the Theology of Work Project (an independent, international organization dedicated to developing biblical resources on significant topics in today's workplace) and John Terrill of Upper House. Our focus will be—
What Leaders Really Do
The Purpose of Business Debate
Managing Conflict Creatively
The Value Chain and the Invisible Hand
DETAILS
We will gather via Zoom for four 75-minute sessions. Attendees will need to spend approximately 90 minutes reading/reflecting prior to each session.
Dates and Times
Thursdays | 7:45 AM – 9:00 AM CST
March 2, 9, 16, and 23 CST
Readings
Please see syllabus.
Speakers
Leah Archibald
Leah Archibald is the senior writer at the Theology of Work Project, Inc., a multi-year, international project to develop a biblical, theological, and practical theology of work. As the lead writer, Leah creates Bible study guides, video adaptations, and devotionals that equip businesspeople to apply the Christian faith to the workplace. Her devotions on topics such as "How to Make the Right Decision" and "How to Pray for Your Work" have reached over two million Christians online and through the YouVersion Bible app.
Leah hosts the "Making It Work" Podcast, a joint production of the Theology of Work Project and Fuller Theological Seminary's Max De Pree Center for Leadership. As the host, Leah draws out real workplace struggles from interviewees to illuminate Scripture in a way that brings the Bible's wisdom to bear on difficult work problems.
Prior to joining the Faith and Work movement, Leah worked as a content marketer for several IT systems integration software companies.
Will Messenger
William G. Messenger is the Executive Editor of the Theology of Work Project, Inc., an international organization dedicated to bringing the Bible's insights into daily work and helping people to find meaning and value, to benefit society and co-workers, and to face the challenges and opportunities of life at work. Its materials are available free of charge at www.theologyofwork.org.
Will was the Director of the Mockler Center for Faith and Ethics in the Workplace at Gordon-Conwell Theological Seminary from 1999 to 2008, where he also served as an adjunct faculty member. He created and led the seminary's doctoral and master's degree programs in workplace leadership and business ethics. Will is a fellow of the Seattle Pacific University Center for Faithful Business and teaches as a Senior Lecturer (adjunct) at Gordon College. He has previously taught at Rensselaer Polytechnic Institute, Holy Cross College, and Laidlaw College Graduate School (New Zealand).
Will's board of directors' service includes ArQule Inc., Life/Work Direction, and The Call to Work. He serves on the Lausanne Movement Advisory Board for Workplace Ministry. He has worked as a sales representative at IBM, corporate finance associate at Goldman Sachs, consultant at McKinsey & Co., and vice president of sales and marketing at Advanced Metabolic Systems. Will is ordained in the Episcopal Church and formerly served as pastor of Charles River Church in Boston and assistant rector of All Saints' Episcopal Church in Belmont, MA.
Will graduated with a B.S. in Physics from Case Western Reserve University, an M.B.A. from Harvard Business School, a Master of Divinity from Boston University School of Theology, and a Doctor of Ministry from Gordon-Conwell Theological Seminary. Will and his family live in Boston.
John Terrill
John R. Terrill serves as the Executive Director of the Stephen & Laurel Brown Foundation, which includes Upper House—a Christian study center located at the heart of the University of Wisconsin-Madison—and Dottie's Ranch—a leadership development and spiritual retreat house located near Oregon, Wisconsin.
John previously served as Director for the Center for Integrity in Business at Seattle Pacific University; before that, he worked with InterVarsity Christian Fellowship/USA as the National Director for Professional Schools Ministries, as well as a campus minister at Harvard Business School and National Director for MBA Ministry.
John is a graduate of Indiana University (Bloomington), holds an MBA from the Kellogg School of Management (Northwestern University), master's degrees in theology (MATH) and religion (MAR) from Gordon-Conwell Theological Seminary, and a Ph.D. from Seattle Pacific University in industrial and organizational psychology. John and his wife, Vanja, lived in Middleton, Wisconsin, with their daughter, Elena. He currently serves as the board chair for Religion News Service and Religion News Foundation.