Week 4: When Hope Isn't Foolish
Small Group Study / Produced by partner of TOW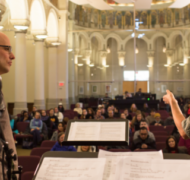 Week 4 demonstrates how a pastor can integrate work stories from members of the congregation into the order of the service. (See this additional resource on how to conduct faith and work interviews in church.) As outlined in this week's preaching notes, Senior Pastor Steve Watson brings a member of the congregation onto the stage and asks this person 5 questions:
Tell us a bit about yourself (name, how long you've been around this church, where you're from, and another non-work fact about you)
What have you chosen to tell us that you do outside of this community? (a bit about your work, or volunteer passion, or work at home, or process looking for work.)
What is the best thing about this work?
What's something that's challenging for you about this?
How can we pray for you?
The congregation, led by the pastor, then prays for the volunteer regarding his or her work. Watson explains the exercise to the congregation this way: "This fall, I'm going to invite someone each week to tell us about their life outside this community. What's your work or your passion? What do you do with most of your time? There are too many of us for all of us to come here, but each time we do this, we'll pray for the one person here, and by extension pray for all of us, that we'll be inspired. That we'll experience God breathing joy and hope and purpose and life into our whole lives." This occurs before the normal sermon. You can hear it alluded to in the audio version of the sermon.