His name was Tony. He wore the hotel-issued black shirt, the silver nametag, and the confidence of a man who'd been in his line of work for a while.

"May I take your plate? Would you like more water? Is anyone here gluten-free?" He worked his way around our table, serving with ease, generosity, and outrageous hospitality.

All across the conference room, there was this dance of work. Tony and a large staff of waiters and waitresses served up delicious food. A tech crew in the back tested the sound for the upcoming keynote address. A musician propped his guitar on stage. And all around the room, people were discussing their work as writers, podcasters, mamas, editors, and artists. Even the tables—appointed with fresh flowers and colorful pottery bowls stacked artfully—revealed the skillful work of a designer.

From my seat on the left side of the conference hall, I glanced around the room to see how each person brought unique gifts and skills to the room as servers, authors, designers, worship leaders, and more.

Indeed, I thought, work is a form of worship. Work is a gift from the Father, one to behold and to enjoy—not to treat as a curse.

As I scanned the room, my eyes settled on Tony, standing near the wall. He had put down the dirty dishes, to hold and bounce a baby in his arms while the mother ate her dinner.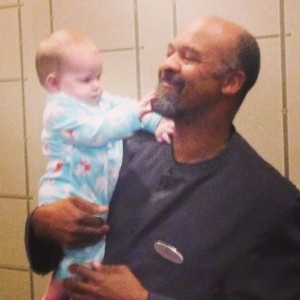 I thought to myself, "This is a man who brings not only his hands to the job, but his heart."

I asked if I could take his photo, and afterward, he told me about his years of service, his various roles, and his weakness for cute babies.

The room, in general—and Tony, in particular —created a beautiful portrait of what it means to celebrate the gift of our work.

Over the next few days, we at The High Calling encourage you to think about work as a gift. How do you celebrate the gift of work? How do you use your gifts to benefit the Kingdom? How can you find new ways to see that work isn't a curse but an actual gift from our Father?

Last weekend, in a large Hyatt conference room in South Carolina, Tony answered those questions for me with his actions.

Will you join us this week, answering those questions with your words?
Here are the details for our latest community link-up:
How to Share Your Story
Every other week, we offer a new link-up at The High Calling. This is an invitation for you to be a part of the conversations we're hosting.
This round, consider the theme "Designed to Work." Write your story on your blog sometime before Saturday, November 1, at midnight, and then share it with us using the link-up tool below.
We'll be reading all of your stories, and we will choose a few of the linked posts to feature right here on our homepage the week of November 3.
Our Theme: Designed to Work
Work is not a curse. Before the Fall, God placed Adam and Eve in the garden and invited them to participate with him by cultivating the earth and tilling the soil and coaxing seedlings to find the sun. Our work is one way we participate in restoration. We were designed to work, and our good work is worship. In this series, Designed to Work, we'll explore together and celebrate the gift of work, given to us by a God who loves us deeply.
Submission Guidelines
Make sure your story is 600 words or fewer. We really love good storytelling. Follow the theme as closely as possible, while still exercising your God-given creativity. Read past High Calling features to get a feel of our style and focus. Direct references to faith and Scripture are fine, but not required.
Publish your piece on your blog and submit your piece along with the URL on the link-up below by Saturday night, November 1, in order to be considered for a featured spot.
We'd love it if you'd also include a link to this post, so other writers and readers in the network can learn about our linkup.
Looking Ahead
Our next community linkup will begin November 10. We will be exploring the theme "Create Good." Check back then for more details.

Post by Jennifer Dukes Lee, author of Love Idol. Photos by Patricia Hunter and Jennifer Dukes Lee.
---
---
Our free online resources depend on your support! For a limited time, all donations will be matched dollar-for-dollar, up to $100,000. Don't miss this opportunity to help Christians connect the Bible to everyday work.