Festival of Faith
&

Writing

Blog / Produced by The High Calling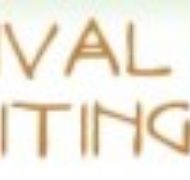 Are you going to the Festival of Faith & Writing on April 15-17, 2010? "The Festival of Faith & Writing is a biennial gathering of readers and writers hosted by Calvin College. At the Festival, our goal is to provide a vibrant community where people come together to discuss, celebrate, and explore the ways in which faith is represented in literature and how it plays out in our world today." A handful of members from our High Calling Blogs community will attend this year. In fact, the wonderful writer,
James Schaap
, will be speaking. And Jim Schmotzer, who just today finished a gripping series of five short stories called
Momma Kept Staring
, will host a
Festival Circle
on writing as a hobby. And who wouldn't want to hang out with HCB's Family Editor,
Ann Kroeker
? If you're looking for an opportunity to meet other writers, hone your skills, connect with publishers, or just have a great weekend away, consider going. To find out more, click
here
.
Just for fun
There may be a chance to gather with other attendees from our network. If you plan to attend, contact Jim Schmotzer at jimschmotzer at gmail dot com, or let us know right here in the comments section!