Reflections of Generosity
Blog / Produced by The High Calling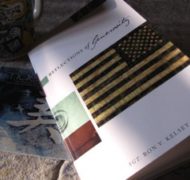 L.L. here, just back from the
IAM Encounter conference,
where I met Ron Kelsey. Ron is an artist. And he is a soldier. For me, the issue of war has always been full of tension. As a child, I listened to my stepfather tell stories of WWII. He told them with bravado and edgy laughter. But he was a haunted man who brought his torments into my life in a difficult way. Is this what war did to a man? If so, I could never look war in the face. Oh, but how I liked Ron when I met him. Ron is a soldier, and he is also an artist. We met in the IAM space on 39th Street, and the first thing I did was buy his book
Reflections of Generosity
(just published by IAM) and have him sign it. With a shy smile he penned, "Yours towards restoration and peace." Today I have been sitting with Ron's book, which includes essays on his experiences in Iraq, thoughts on creativity during times of conflict, and art pieces that formed an exhibit to serve soldiers. Ron made me cry as early as the Introduction with this request, "Before turning the page, please pause for a moment to honor and remember all the men and women who sacrificed their beautiful lives as a result... of ongoing conflicts." If I closed my eyes to do that, would I not have to honor and thank my stepfather along with the nameless multitudes? Ron reflects at one point, "I wondered if perhaps the world was still in some ways 'formless and empty.'" As I sit and struggle to honor my stepfather, I must answer him, "Why yes, if you look into my heart you will see it surely is." And so I relate to Ron as he also shares, "From Iraq, I bear the scars of spiritual and physical struggle in my memory, my spirit, and on my body, and every day I strive to unify these broken pieces." Is that possible? For Ron, for me, for you? He says, and this feels like part of an answer, "Until the conflicts of our time subside, I will settle for peace experienced within moments of created harmony." Ron is an artist. I should not be surprised that this is how he begins to handle the tension of war, loss, and conflict in the world. ---- If you would like to support gifts of art to those in the military, please consider
donating through International Arts Movement.
To buy Ron's book and learn more about the Reflections of Generosity art show,
click here.
Kelsey's book was also produced in association with
Caleb Seeling of Samizdat Creative.
Reflections of Generosity photo, and post by L.L. Barkat.