To Those Who Worship Money, Ambition, Aggression, and Falsehood (Jeremiah 23:32)
Worship / Produced by partner of TOW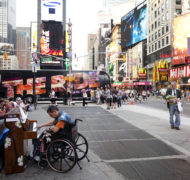 I am against the prophets, says the Lord, who deal in false dreams (Jeremiah 23:32 REB)
If the Gospel possesses us, we shall not be able to help showing that we have loyalties to a kingdom with a radically different understanding of what life is all about.
To those who worship the great financial director in the sky and whose priests are stockbrokers and bankers, we shall be declaring the God who pours out his riches for all.
To those who expect us to wheel out a tribal deity on special occasions to give credence to narrow national aims and prejudices, we shall be declaring the God whose love knows no boundaries and to whom every woman and man is dear.
To those consumed by ambition or greed, driven to climb higher or amass wealth without a thought for those they hurt in the process, we shall be declaring the God who calls us to life in community, where the joy of strength is the ability to support the weak.
To those who see life in terms of aggressive confrontation, we shall be declaring the God who suffers and forgives, that he may bring his scattered people back into one family.
To those who habitually use New-speak, calling retrogressive legislation reform, who are not so much economical with the truth as deliberately camouflaging their actions with falsehoods, we shall be declaring the God who cannot be fooled by any public relations exercise, however brilliantly it may be conceived.
At a time when successive Acts of Parliament are widening the already unacceptable divisions in our society, we shall be witnesses to the claims of the God whose justice is concerned, not with statutes, but with right dealing by the disadvantaged, and who holds us responsible for the way we treat our less fortunate sisters and brothers.
If the Gospel really possesses us we shall show in our living a fellowship in Christ of women and men who rejoice that they have a measure of strength to help the weak, a measure of wealth to share with the poor, a reservoir of love from which they may draw to refresh the unloved and the rejected, and a passion for justice to confront the often squalid legality of our times.
(Edward Banyard, from his Moderator's Address to the URC Assembly 1988, c. 'All Year Round', 1996, The Council of Churches for Britain and Ireland.)
---
---