What The Early Monks Set Out To Seek Yesterday in The Desert, You Will Find Today in The City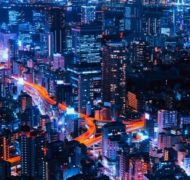 Light in the City
Look for the lights that will shine today in this city of…
the light of honourable commerce and business
the light of deep concern for human needs
the light of humble research
the light of wise teaching and diligent learning
the light of unassuming service
the light of leisure and travel appropriately enjoyed…
… each a part of the light of Christ.
You will have to wage a twofold fight in the heart of the city:
for God and against evil.
There you will receive a double grace:
a meeting with God and purification from your own sins.
In the city you will have to struggle and contemplate.
What the early monks set out to seek yesterday in the desert,
you will find today in the city.
Oppose eroticism, prestige and money,
with the firm contrast of a life of moderation, humility and purity.
Fight noise with your silence;
weariness with your peace;
endless comings and goings with your repose in God.
No cloister will protect your prayer;
the countryside will not bring you serenity;
the walls of your enclosure will not preserve your virtue.
Followers of Christ,
you are summoned to a real struggle
in the heart of the city.
(From the Jerusalem Community Rule of Life, adapted)
---
---