BOLDLY Conference - Faith
&

Work for Women, October 8, 2021

News and Events / Produced by partner of TOW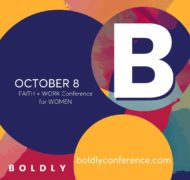 Join a movement of Christian women ascending BOLDLY, integrating our faith and work while pursuing meaning and purpose in our everyday lives.
BOLDLY is the first-of-its-kind Faith + Work Conference by women for women. It is a LIVE virtual event launching October 8, 2021, 9am-4pm CT.
BOLDLY will encourage, equip, and empower working women as Christ's ambassadors in their important workplace mission fields.
In the United States, 45 million working women identify as Christian, yet less than 30% connect in faith community. We stand at a critical crossroads with many of us lacking support from like-minded women. Recent studies affirm that women in the workplace wrestle with:
pay inequity
the need to always "be on"
blurred boundaries between work and home
isolation and exhaustion
finding God at work
the challenge of career advancement
working-mom guilt and the juggle of daily double-shifts for work and family
BOLDLY is a place for working women to come together. To listen. To learn. To inspire. To encourage. To connect. To equip. To empower. To seek answers to deep questions. To identify and take next steps together.
We can't wait for you to join us! Get your tickets today.

FAQs
When is the conference?
Friday, October 8, 2021, 9:00 am - 4:00 pm (CT)
How do I watch the conference?
BOLDLY is a LIVE event streamed online so attendees can watch remotely wherever they are. You can also organize your own small groups meeting in-person to stream together through your church, business, or neighborhood. (Please have each person in the group register individually.)
What are the conference topics?
Session 1: Created BOLDLY… with Purpose
This session focuses on the foundations of theology of work: who we are as the imago Dei, our calling as Christ's ambassadors in the workplace, the lies that keep us from joining Christ's mission, and the truth of the purposeful work God has created in advance for each one of us to do. We'll look at Scripture from Genesis to Revelation to see how our story as Christ's "sent ones" weaves seamlessly into God's Big Story of the Bible.
Session 2: Leading BOLDLY… with Faith Perspective
As ambassadors of Christ, all women are leaders in our daily circles of influence, and God has strategically placed us in our workplace mission fields for such a time as this. Session 2 focuses on how we lead confidently as women with our unique and powerful gifting, talents, passions, and experience. We'll look at how we overcome the imposter syndrome, and how we trade perfection and achievement that bring glory to ourselves for excellence in our work that brings glory to God. Speakers will share practical tools and leadership tools.
Session 3: Living BOLDLY… with Passion
This session focuses on what it looks like to live out our faith through our everyday work. Jesus Christ is inviting each one of us to join in the work he's already doing in our workplaces. We'll learn how others are living boldly with passion, and we'll explore what God might be inviting us into as we focus on three individual takeaways and craft three next steps. Each participant will also choose two breakout sessions with industry experts and women who are digging deeper into "how to" topics for faith and work integration.
Who are the conference speakers?
This virtual event features:
15+ main-stage national speakers sharing their expertise in faith and work through three one-of-a-kind plenary sessions:

Created BOLDLY with Purpose
Leading BOLDLY with Faith Perspective
Living BOLDLY with Passion

20+ breakout talks by leading industry and organizational professionals sharing the whys and practical hows of living out faith through work
Speakers include: Jo Saxton, Celia Swanson, Chrystal Evans Hurst, Hosanna Wong, Dee Ann Turner, Jamie Ivey, Deborah Smith Pegues, Denise Lee Yohn, Jess Connolly, Kat Armstrong, Teri Ijeoma, Tanya Dalton, Joy Dahl, Marshawn Evans Daniels, Rachael Capua, Stacia' Alexander, Mindy Lawhorne, Pamela Flores, Merdith King, Jessica Rimmer, Rebecca Carrell, Feleceia Benton Wilson, Amy Cedrone, Rocio Lopez, Brandy Baxter, and more.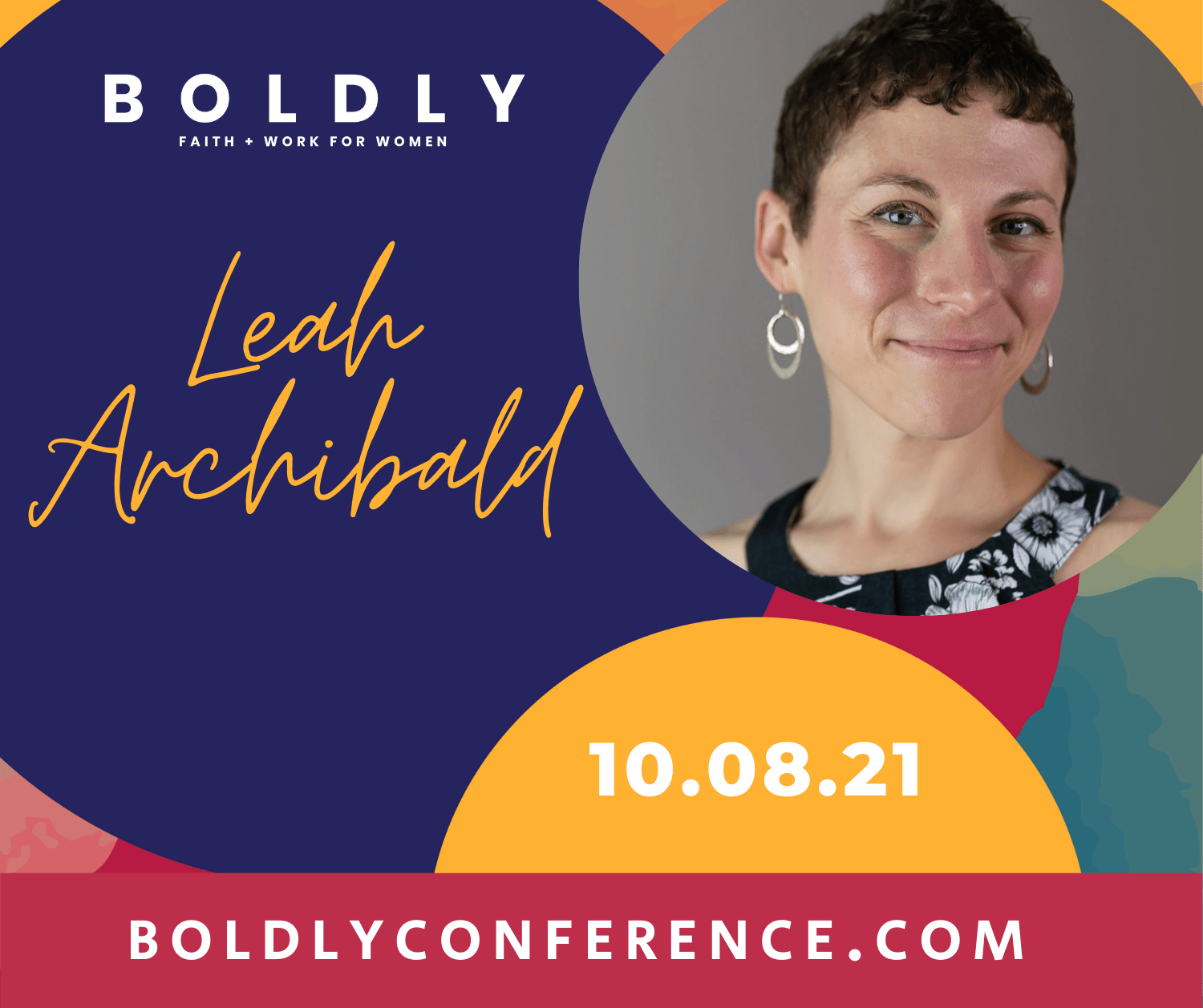 Session 3 will feature a breakout sessions with:
Leah Archibald from the Theology of Work Project. She'll guide on how to tune in to God's calling for your work right where you are (without leaving your job!). Check out the session titled Finding Your Calling Without Changing Your Job
Elaine Kung, Theology of Work Project Chinese board chair. Check out the session titled How Do I Wear All These Hats?
What is the conference schedule?
9:00 AM (CT) Session 1: Created BOLDLY... with Purpose
Emcees: Amy Cedrone & Feleceia Benton Wilson
Kat Armstrong - No More Holding Back
Jo Saxton - Ready to Rise
Dr. Joy Dahl - For Such a Time as This
Hosanna Wong - Bolding Fighting the Right Battles
10:30 am (CT) Session 2: Leading BOLDLY... with Faith Perspective
Emcees: Amy Cedrone & Sissy Mathew
Dr. Stacia Alexander - Emotionality of Success
Denise Lee Yohn - Ambitious & Christian?
Tanya Dalton - Big Dreams Need Big Plans
Panel: Trading Perfection for Excellence
Moderator: Rebecca Carrell
Dr. Jessica Rimmer
Meredith King
Pamela Flores
Dee Ann Turner - Creating a Culture of Care
Jamie Ivey - You Be You: Chasing Faithfulness Over Success
12:35 pm (CT) Lunch Break
1:15 pm (CT) Session 3: Living BOLDLY... with Passion
Emcees: Amy Cedrone & Rocío López
Megan Alexander - A Seat at the Table: Why Women of Faith Must Show Up Boldly in Business, in Culture, and in Life
Dr. Rachael Capua - New Beginnings: Transitions, Trust, and Believing in God's Plan
Jess Connolly - Overcoming the Imposter Syndrome
Teri Ijeoma - How to Represent God in Social Media
Marshawn Evans Daniels - Believe Bigger: Discover the Path to Your Life's Purpose
Celia Swanson - Leading With Grace
Mindy Lawhorne - Social Stewardship
Chrystal Evans Hurst - How to Pray For and At Your Workplace
Commissioning
4:00 pm (CT) Dismiss
What if I want more?
All registered participants will have access to 30+ breakout sessions through a weekend access pass. Attendees can watch the breakout sessions immediately following the close of the conference at 4 PM (CT), and they will have access until Monday, October 11 at 5 PM (CT).

​