The Equipping Church (Overview)
Article / Produced by TOW Project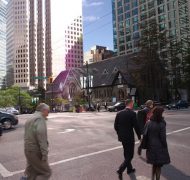 The effectiveness of a church's mission largely depends on its ability to mobilize its people in doing God's work in the world. The largest force the church has to accomplish its mission is the People of God engaged in the life of the world every day in the course of their daily work. The church's mission includes bringing people to Christ, guiding their spiritual growth and taking care of their needs. Yet the church's mission to those beyond its congregation is an even greater need. Our purpose here is to focus on how churches equip their people to make the world beyond the church more like the way God intends the world to be.
Fortunately, increasing numbers of churches are developing new ways of resourcing and supporting their people for this work. We will describe both the thinking of these equipping churches and the practical strategies they are adopting. We hope that all the resources on the Theology of Work Project website can be of use to churches and workplace Christians in this regard. We welcome churches and individuals to send us materials and evaluations of resources they have tried for incorporation into future Theology of Work Project resources.
Churches that develop the ability to equip their people for mission in daily work usually find themselves asking the following questions:
What is God's Mission in the World?
How does human work connect to God's work?
What does this mean for people in their daily work?
How can we equip our people for God's work in the world?