Lazarus at the Gate: An Economic Discipleship Guide
Article / External content not produced by TOW Project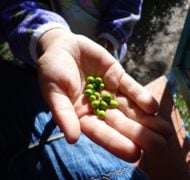 The Lazarus at the Gate curriculum is a small group discipleship experience designed to impact global poverty. Lazarus at the Gate invites participants into a community in which they are supported in their practice of economic discipleship. Over the course of the 8-session study, Lazarus discipleship groups support each other in making four individual commitments:
Live gratefully: Regularly give thanks for the blessing of wealth.
Live justly: Decide on an intentional personal standard for how much of your wealth is for sharing.
Live simply: Make one lifestyle change in order to buy less for personal consumption.
Live generously: Make a substantial gift to fight global poverty.
Click here to view or download the full curriculum in PDF format.
Special thanks to Mako Nagasawa. Some rights reserved by Gary VanderPol, 2012.
Photo via Pixabay.