Cal Ripken, Jr.
Audio / Produced by The High Calling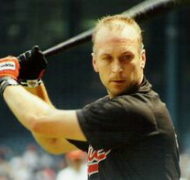 Transcript
On September 6, 1995, Cal Ripken, Jr., appeared in his 2,131st game. He broke Lou Gehrig's 56-year-old record for consecutive games played. From the capacity crowd, a thunderous ovation lasted twenty-two minutes. Cal took a victory lap to acknowledge his delighted fans.
Many people felt Gehrig's record was unbreakable. Cal's streak began May 30, 1982, and reached its zenith thirteen seasons later. Thirteen years without missing a game!
This is Howard Butt, Jr., of Laity Lodge. Cal Ripken's great accomplishment? Character plus discipline. He showed up every day ready to work. All of us can show up ready to give our best . . . in the high calling of our daily work.
Therefore, my dear brothers, stand firm. Let nothing move you. Always give yourselves fully to the work of the Lord, because you know that your labor in the Lord is not in vain.
Image by Rick Dikeman, available from Wikimedia Commons