Be Active in Sharing Your Faith at Work
Daily Reflection / Produced by The High Calling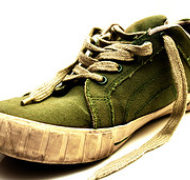 "I pray that you be active in sharing your faith, so that you will have a full understanding of every good thing we have in Christ."
Philemon 6
Introduction by Mark Roberts: The Daily Reflections for this week have been written by my friend and colleague, Marcus Goodyear. He has penned a wonderful five-day series based on the New Testament book of Philemon. I know you'll find these to be engaging and encouraging. In his "day job," Marcus oversees The High Calling website and digital community in his role as Senior Editor at Foundations for Laity Renewal. He is a teacher, poet, writer, speaker, and top-notch editor, not to mention husband, father, and valued friend. I know you'll appreciate Marcus' thoughtful reflections this week. I'll be back with you on Saturday.
Before I became Senior Editor of TheHighCalling.org, I was an English teacher in a public school. Although we did not pray in school formally, few of the teachers hid their faith. I talked with students casually about church activities in the same way that I talked casually about my family. Our vice principal did the same.
One semester, a student failed my class by a slim margin because she plagiarized her research paper. The failing grade meant that she would be ineligible for the district swim meet, which would throw her out of the entire season. The vice principal called me into her office. "Change the grade," she said. "The consequences are too severe in this instance." Ironically, the girl's father was a Christian motivational speaker. He pleaded with me to change the grade as well.

My situation was not unlike Philemon, the recipient of a letter from Paul. Sometime before the letter, Philemon's slave Onesimus traveled to Rome to seek Paul as an advocate. Some scholars say Onesimus ran away. More recently, scholars like S. Scott Bartchy have argued persuasively that Onesimus was exercising his right to an impartial judge in some dispute with Philemon.

Regardless, Onesimus was almost completely powerless before Philemon (just as my former student was powerless). So what does Paul say to Philemon? Paul's letter begins with a greeting and a reminder to Philemon to "be active in sharing your faith." This meant more than leading the church that met in his home. It meant more than evangelism and teaching. For Philemon, being active in sharing his faith meant reconciling with Onesimus.

Most scholars speculate that things went well for Onesimus. A few years later, a man named Onesimus became the bishop over the church in Ephesus, and many people think that bishop was the former slave of Philemon.

Things definitely went well for my former student. I changed her grade at my vice principal's suggestion, after giving the student a chance to rewrite her paper and retake several quizzes. She then went on to win the state swimming competition that year and receive an attractive scholarship offer from a university. Like Philemon, my vice principal called me to extend grace in a difficult situation. She taught me that being active in sharing my faith at work meant much more than merely talking about my church attendance.

QUESTIONS: Are you active in sharing your faith in your daily work? Where do you have authority in your daily work? Are you exercising your authority in a way that reflects your faith?
PRAYER: Dear Lord, thank you for the example of Philemon, Onesimus, and Paul. Forgive me when I take pride in all of my words about you. Help me, like Philemon, to serve you well in places where you have given me authority. Let me listen to others patiently. Let me hear their concerns and complaints and do what I can to help them.

Help me, like Onesimus, to be useful to others. Let me serve my supervisor in a way that honors him and does not frustrate him. I thank you for Dan Roloff, my supervisor, and Howard Butt, my boss. Thank you for allowing me to serve good people.

Not all of us work for leaders who are a joy to serve. Many of us work in difficult situations for difficult people. Give us courage and perseverance. Help us advocate for ourselves in ways that honor you and our leaders.

Above all, help us to remember that all good work is done for your glory, and help us to be active in sharing our faith so we will have a full understanding of every good thing we have in Christ. Amen.
Image by Matthew Griffiths. Used with permission. Sourced via Flickr.