Best Vacation Stories: The Ferry Boat
Blog / Produced by The High Calling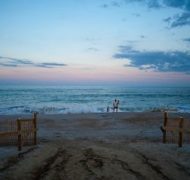 The island floated alone on the horizon—a tiny blip of land cradled by miles and miles of ocean. The faint glow of the lighthouse's lens circled around and around, blinking welcome and drawing all eyes. When the ferryboat arrived we piled in, a skiff jumbled with different faces and colors and stories. The journey over was enchanted, complete with miles of uninhabited beaches, shimmering water and wild ponies.
This family vacation felt like paradise, especially when I looked into the shining faces of my two young sons. My little guys were like coiled wire, ready to spring at any moment. Exploring the lighthouse grounds, combing the beaches, jumping in the waves…the only regretful part was that it had to end.
When the ferry returned for its cargo, we all filed down the plank once again. The island spilled its contents haphazardly into the little skiff; we sat tangled together, a mass of arms and legs and sun kissed skin. My little one sat on my lap, his brother to my right, subdued into silence by the motor's lullaby. I felt the small body in my arms jostling about. Dappled light reflected off the pristine waters, dancing with the deep as the sun receded into the indigo bed below it. The wind carried thankfulness and quiet joy.
The kinship of the ocean drew me to the faces of the others. Their expressions held the peacefulness that I, too, felt. A mother, in middle age, sat with her teenage son, bouncing along, shoulder to shoulder. They were seemingly unaware their bodies were touching, sitting impassively side by side. His coloring was hers, his eyes, her eyes.
I buried my face in the hair of my young son and breathed him in. He smelled of salt and sand, of sun warmed flesh. My heart swelled with love for this little boy. I wondered if we would grow into this mother and son who were jostling about before me. Will there be a time when his kisses and hugs will not flow so freely; when we will sit dispassionately beside one another, side by side bumping through life?
The answer to my question shrugged with my oldest son's shoulder as I reached over to gently touch him. Recently he said to me, quite seriously, "Mommy, you have to stop this hugging stuff."
With a lump in my throat I had responded, perhaps a little too emphatically, "Never! As long as I live I will never stop wanting to hug you and kiss you."
I gazed at the mother and her adolescent son again from under the cover of my lashes. They seemed happy, and appeared to be comfortable sitting there aside one another.
I would have worried had the teenage boy been sitting close to his mother and cuddling her as my little one was doing me. After all, isn't it our job to fledge them well; to send them soaring from the nest while we stand patiently by?
Waiting, like the lighthouse beaming welcome from afar.
_____________________________
Best Vacation Stories
While the stereotypical summer vacation usually involves a cabin or a beach, the vacations most of us take are much less nostalgic and far more varied than that. Or even if there is a beach or a cabin, it's not the one we see in movies or read in books. Some of the best vacations, in fact, don't involve packing or traveling at all; they happen in the backyard or on the front porch. At The High Calling, we're telling some of our best vacation stories, the ones where things didn't turn out as expected, where plans changed and so did we. So, whether you have reserved your favorite hotel or just a spot in Grandma's spare bedroom, join us as we share what happens when we step away from everyday for vacation. And if you like these stories, why not share them with a friend or tell one of your own favorite vacation stories.