Book Review: Undaunted
Blog / Produced by The High Calling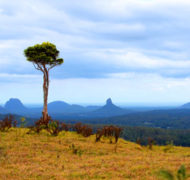 About a year ago I learned about an amazing organization called The A21Campaign. Its purpose is to protect victims of human trafficking through rescue, prevention programs and prosecution. Its founder, Christine Caine, tells the story of how she became drawn into this ministry in her book titled Undaunted.
While the book opens and closes with stories from A21, the majority of the text focuses on Christine's life story.
The fundamental need to have trusting relationships is one of the themes that emerges.
A lack of trust can come from many sources. Christine's issues stemmed from abusive experiences in childhood which left her mistrustful of others. She confesses:
I couldn't forgive the men who hurt me, nor myself for being abused. Worse I realized I hadn't forgiven God. Where was he, after all, when I was a helpless child and those men laid hands on me? Why didn't he stop them?
While outwardly she was a confident, outgoing woman, inwardly she kept up a defense system that kept others at arm's length. She says, "I desperately craved close relationships, but feared them too- because I never wanted to be hurt again."
Finally when she met her future husband, someone who truly loved her unconditionally, she realized she needed to bravely trust someone again. She was able to begin the emotional healing that she needed.
Her journey from abuse to wholeness was one of the foundational reasons for working to help other victims of abuse. There were other important turning points as well. She found out at age 32 that she had been adopted. In the instant that she realized that something so deep had been purposefully kept secret from her, she wondered once again, who could she trust?
While it took time to process such a revelation, her faith kept her strong. She recalled the words from Psalm 139 that she was "fearfully and wonderfully made." Regardless of whose biological child she was, she was a child of God.
Reflecting on some of her life's challenges, Christine says,
"Because I was willing – not necessarily able, but willing – to take one step and then another, and another, God has brought me to the most interesting places. He took what I thought was broken and unworthy – my heart – and made into something beautiful by giving it to others who are flattened by life and circumstance."
Though Christine knew with all her heart that God was calling her to rescue women trapped in slavery, obstacles continued to be thrown in their path. In fact, all the experts were telling her it was impossible. Her answer was to trust God even more. The job wasn't without danger and it wasn't going to be easy, but she persisted anyway. Now six years later the organization has changed the lives of countless women.
Undaunted challenges me to continue to persist, despite struggles large or small, to live out my calling each day.