Books on Family: Not So Fast by Ann Kroeker, week three
Blog / Produced by The High Calling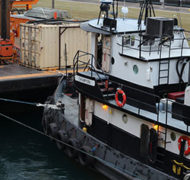 When I first read Ann Kroeker's book, Not So Fast: Slow-Down Solutions for Frenzied Families, I was single. It seemed counterintuitive to read the book, given the subtitle. But I had just met Ann and our fast-forming friendship led me to believe there would be gems for even the frenzied single. And I was right. I wrote about the slowed-down life for singles in a series of blog posts back in 2011.
As I read the chapters about slowing down for families, I had to resist the urge to say, "If I were married, this would be a great idea," and instead search for the application for me, just a singleton. After my recent marriage and instant motherhood, suddenly the connection points to Ann's book are glaringly obvious. And harder than ever.
Take chapter 11, "Forget the Joneses," for instance. As a new mom to three bouncing 9, 11, and 14-years-old boys, I have to resist every possible urge to compare them and their accomplishments to my friends' children. And it's not about the boys, really. It's about me. Do I feed them properly planned and nutritionally balanced meals every time, do I allow them to participate in enough outside activities, do I accidentally leave them at basketball practice that was cancelled so they have to call their dad to come and get them?
Not that that last one happened, or anything.
In fact, one of the greatest gifts my friends gave me as a new mom wasn't a baby shower – it's way too late for that – but stories of their own struggles. And that authenticity—when it would be easier to stretch the truth and make themselves look better—is the love I so desperately need as I navigate these new waters.
"I think that looking to others for inspiration is fine. But that whole keeping up with the Joneses thing so easily jeopardizes friendship, support, and unity. Copycatting or "besting" other people's choices threatens relationship, reducing it to superficial comparison at best and tempting cutthroat competition at worst. It squelches the compassion and empathy to which Christ calls us. It stifles love," Ann writes.
After all, don't we all want to keep the pace of life that allows us to commune deeply with Jesus together as a family?
As Ann says in Chapter 9, "Intimate relationships generally don't flourish without some dedicated time one-on-one. They need slow moments of focus and attention. So there are also times when we stop completely in order to pray and praise."
The real key to slowing down a family seems to lie in chapter 10: "Load Limits." In this chapter, Ann uses the metaphor of Plimsoll's load limits which consists of the Plimsoll mark on the side of watercraft indicating an official load limit.
We all have load limits, she suggests, or a point at which if we take on any more responsibilities or activity it becomes detrimental. I have known my personal limits quite well over the past few years, maturing into an awareness that too many nights away from home or too many regular commitments wear thin on my ability to cope.
But new to me now is the family load limit.
"The family fleet, if you will, is not determined by the sum total of each individual ship's capacity—one must take into account not only the person with the greatest capacity, but also the one with the least," Ann writes. Or to use another metaphor, a chain is only as strong as its weakest link – though when it comes to family, it's not about weakness or strength but what will benefit the whole family.
"The ships must all stay afloat to maintain a successful fleet," Ann concludes.
In the end, slowing down for families is a lot like slowing down for singles. It starts with taking my pace from Jesus, letting his slowness help me grow, and letting his peace sustain me during busy seasons.
"When we yoke ourselves to Jesus, we learn from him, from his gentle and humble heart," Ann writes in Chapter 8. "We walk with Him at His pace; yoked to our leader, we find rest for our souls."
Even when we leave a son at basketball practice that was cancelled.
Not that that really happened.
On Mondays in April we are discussing Ann Kroeker's book Not So Fast: Slow-Down Solutions for Frenzied Families. If you've posted on your blog about the book, leave your link in the comments. Or, just jump in the discussion! Join us next week as Tina Miller Howard leads us in discussing chapters 12-15. Our May book selection is The LIfe of the Body: Physical Well-being and Spiritual Formation by Valerie E. Hess and Lane M. Arnold. Get your book and join us in May!
Photo by Ann Kroeker. Used with permission.