God's Timing is Everything
Blog / Produced by The High Calling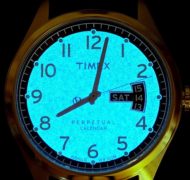 Two months ago, I purchased a Timex watch. This handsome timepiece featured INDIGLO technology, a nifty day-of-the-month indicator and, yes, a black "genuine leather upper" band.
Genuine uppers are the best.
My wife, Toby, supported my choice, at least ostensibly, as she leaned against the glassy watch counter at Sears. However, she made sure I would consider the ramifications of wearing an "old man's watch," which looked "horribly uncool". Sure, I got her message. But this watch met my criteria: practical, simple, and cheap. I needed a watch like that.
See, for the past year, my wife worked as a communications director for a group of companies, and I worked at home as the primary caregiver for our two young boys. Like any family, we're on the go quite a bit and walking, for us, is our primary mode of transportation as we make our way to the grocery store, school, scout meetings, piano lessons, soccer practice, and art studio programming. And because I refuse to buy and/or carry a cell phone, having a trusty watch on hand is crucial to the success of our urban hikes.
Timing is a big deal. Even if it doesn't always make sense.
Like a month ago, when my wife was laid off. That timing felt kind of evil. It hurt. Our family moved to Canada just over a year ago and we were beginning to find a rhythm here and to re-establish ourselves financially. But now, with the Christmas season upon us, simple things, like a light bulb burning out in the bathroom, began to expose a dark, swirling pit of fear in my gut.
Now in our house which felt a bit darker, I sometimes sat by myself, with my head in my hands, listening to that ticking.
Meanwhile, my wife used her cell phone to measure the time. She made calls, checked job postings, and rekindled professional relationships. Toby sent an email to one CEO from whom she had turned down a job offer a year ago. She wanted to pick his brain about any opportunities he might be aware of. But really, she hoped there might still be a chance. You never know.
She got a quick reply. He still hadn't filled the position. And he wanted to meet for lunch. We felt hopeful.
But then came another email. His secretary informed him that he had a prior commitment and would need to reschedule for the following week.
When a family's sole breadwinner has been laid off, each additional week of unresolved employment can feel rather uncomfortable. But we continued to wait and fill that silent space between the constant ticking with a deeper, more desperate kind of trusting.
My wife chased more interviews, sent more emails and poured over more job postings.
We started praying more, too. Together. We recognized in a new way our complete insufficiency to direct or sustain anything important in our lives, without complete dependence on Him.
And then, we waited some more and wondered if God's timing would intervene before the vacation pay ran out.
And then, we watched as the boys pulled a Christmas toy catalogue from the newspaper and placed stickers beside their favourite items.
And then, my wife checked the local food bank schedules, thinking that it might be a good idea to stockpile, just a little.
We felt ourselves stretch, back and forth, in the tension between the timing of God and the timing of our flesh. It was uncomfortable. And it all played out over a dark, swirling pit.
Something had to move. Or something had to break.
Yesterday, we felt both. My wife accepted the job offer. It was just what we needed.
Employed or unemployed, we must do the work we can. Wait. And watch for the hand of God to move.