The High Calling of a School Bus Driver
Blog / Produced by The High Calling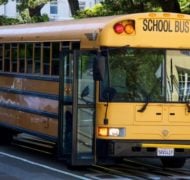 I recently read about a bus driver who is making a difference in this world.
Lori Heyd, over at Lori's Prayer Closet has a friend who drives a school bus.
"Elaine doesn't just 'do a job'," Lori wrote. "She changes the environment where she works for the better. She gives herself away until it hurts. She refuses to stay on the sidelines."
I imagine driving a school bus would not be an easy job, and it would be easy just to tune out the kids and drive. But not this woman.
"She is part counselor, part friend, part taskmaster, part teacher."
Lori is reminded of the verse from Colossians 3:23, "Whatever may be your task, work at it heartily (from the soul), as [something done] for the Lord and not for men."
The kids even bring home their experiences with their bus driver. One of the parents told her, "I want you to know, you are the topic of many of our dinner conversations."
It's not all sugar with this driver.
"And when Miss Elaine has to stop the bus, they know she means business."
Read the whole post here.