Interview With "Moms' Night Out" Star, Robert Amaya: The Things That Could Have Held
Blog / Produced by The High Calling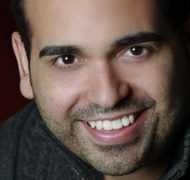 In 2011, in a little category buster of a film called Courageous, actor Robert Amaya played Javier, an out-of-work Mexican laborer with a young family. Javier at last lands a factory job and settles into good work . . . until his bosses take him aside to offer a raise and a promotion. Small side note, they mention to him that he'll need to fudge a few reports. Despairing of what he stands to lose, he gets no sleep, and in the meeting the next morning, he tells his bosses if he cheats he can't face God. And around the world, Latino audiences exhale. For once the best man on the screen looks like them. Courageous would score $34.5 million at the box office, sell a staggering number of DVDs, and spawn a movement (in the lead storyline, Javier is one of four men signing a vow together to be "courageous" fathers).
Javier has put Amaya, who is not Mexican but Cuban/El Salvadoran, on the map and sent him flying across it as a spokesperson. In May this year, his marquee factor takes a great leap forward as he joins Patricia Heaton, Sean Astin and Trace Adkins in Moms' Night Out, a family comedy about the harried lives of three young moms.
Off screen, and off the road, Robert shares a real estate business with his father and takes the home shift with their daughter while his wife, a singer, performs. He's a 21st century American: multiple cultures, multiple roles and, in his case, with a maturing perspective on what holds the pieces together.
:::
Background
The High Calling (THC): Robert, start by telling us a little about your Cuban background.
Robert Amaya (RA): Well, I'm not just Cuban, really; I'm a Latino hybrid. My father is actually from El Salvador, and my mother from Cuba. She came to the US when she was 16; my dad was three years older. They both ended up in California, and my mother was studying and my dad was out working, doing everything to survive in the new country. He would sometimes take a bus, and he saw my mom at a bus stop, and she caught his eye, and they fell in love.
[My sister and I] grew up really, really family oriented. Early after he moved here, my dad's father, my grandfather back in El Salvador, who I never met, was caught in the crossfire by radicals, in a case of mistaken identity. And early on it pushed my dad to say, "I want to make sure I'm around and I teach my children how important family is and keeping the family unit together." On my other side, Cubans are exceptionally tight, and the Cuban culture is more dominant. Even my dad will joke and say he's been Cubanized over the years.
THC: But California has few Cubans.
RA: California is predominantly Central American, the Mexican culture in general, not a lot of Cubans per se. When I was 11, my mother had enough of the earthquakes, and we moved to Miami and got hit by Hurricane Andrew. Miami is where I started growing up. Even then, it's such a melting pot. You find, especially today, such an influence of so many Latin cultures coming together. You'll still have your Calle Ocho [Little Havana]; it's a hybrid of so many, and it's beautiful.
THC: Latino? Hispanic? Which do you consider yourself, and what do you think of those terms?
RA: When I grew up, you were white, black, Hispanic or "other." My parents were never offended by generalities like that. I came to understand some people have issues around it. I consider myself a Latino; that's the better word. In many ways I represent a group of people in everything I do and the way I feel, my upbringing. I feel something beyond Cuban per se. I'm a Latino.
THC: Your heritage is a mix. Your work is a mix. And you're a Christian mixing several worlds at once. Do you ever hit pause and say, "Who am I?" Can you even say what is the core of your identity? Is that a fair question?
RA: It's quite humorous. About two years ago—this is after Courageous had come out, about 2012—I was on a plane. I had already spent a year traveling and speaking because of Courageous, in churches, businesses, universities. I was on a return flight when a young lady asked me what I do. Until then I'd said, "I'm a realtor" (I hold a license) or "I'm just an actor." But I'd never stopped and thought about it.
She asked why I wasn't responding. I realized I had transitioned from being just a businessperson or just an actor to a representative of a greater message. I realized I'd become a minister in the full biblical sense. We're all called to ministry. In every line of work we do all things unto Christ, as if we were working for the Lord. In business or acting or delivering the gospel, I found my identity was rooted in the fact that that I'm a minster in all these areas of my life—a minster of God.
Working In The Movie Industry
THC: You mention Courageous, and you've been in a couple of well-received movies—along with October Baby. May 9, you're in a big comedy with Patricia Heaton, Sean Astin, and Trace Adkins: Moms' Night Out. These aren't all "Christian" films, but they share something.
RA: One of the things my career has demanded from me is to start to navigate what direction I want to go. Taking into account my identity, I wanted to do projects on screen that I can take my daughter to, and my family. Just last year, in 2013, on Mother's Day, my wife was off work and I had my daughter and mom and in-laws. I thought, "Let's go see a movie," and there was nothing I could take them to. Everything was PG -13 or higher because of language or other issues. It invigorates me to be part of film projects that bring that feeling back of families enjoying themselves and not constantly having to read into the ratings. You think, "That actor is in it, and I want to see it." If I carry that reputation, it would be a service to everyone, I think: my fans and people looking for that kind of film.
Moms' Night Out is a multi-cultural cast in a beautiful way. You get to see how cultures come together and deal with the same thing. We all still have to change diapers, deal with rowdy kids—it's another demonstration of how, beyond culture, we are people that love our families.
THC: What do you think you may know that the "average" American misses?
RA: That's a great question. As I think about how all these different titles I carry overlap each other, as I meet more and more people, and my work takes me across the country and the globe, what's surprising is that across all cultures we all fundamentally want the same things. We want to be loved. We want to have family we can love. We want to feel secure. We want to feel capable. [The emphasis] varies from person to person, but all those things, I've realized, come together in Christianity, in God, in Jesus.
Without sounding like a preacher, I've realized if I work, I represent God In everything I do. When I sell a house, I know someone wants to feel cared for, safe, able to provide. I want to find someone a place they can flourish, a good business decision that serves where they are in life.
The movies? Same thing. Every film has a message. People see Courageous and still to this day I'm inundated by men who have said, "That movie has inspired me to make these changes. My family's happier. I'm happier. I feel empowered to love and have been given direction and a roadmap to love my family."
The Impact of Work on Faith
THC: So you hear feedback about what happens to other people's faith. What about yours? How has your work both tested your faith and maybe deepened it?
RA: Courageous was my first movie, and obviously a big one. It did well in theaters, even greater in DVD; it plays throughout the world. That machine, so to speak, began to go to work and it got me a lot of attention. I played a humorous and beloved character. Then a lot of offers came in. Alex Kendrick told me: "You've got to pray and be careful what you agree to do and don't, what roles you take on. The world will tempt you with roles and money, and you have to be true to who you are and how God made you."

Back then it was easy to say, "Absolutely." Then you see offers on paper to do certain things or be a part of a film with a message that goes completely contrary to what you believe. There's a point where you have to weigh that. It's not that I'm opposed, as an actor, to both secular and Christian. I've done a lot of stage work; it's not that every show has to be Christian, but worldview is a big deal.
THC: What shapes your worldview?
RA: My father was a pastor for some years, and I grew up in a Christian home. Every morning I saw my dad praying before we start the day. I used to sing; I played drums and eventually lead worship. I even evangelized and helped bring people to Christ. All this to say that I became a professional Christian; I did all this work for God but I honestly failed to know him.
So I'm one of those people Jesus talks about in Matthew: "I did this in your name but depart from me I never knew you." He'd say, "I never knew you. Who are you?" Right before Courageous, in January 2010, I really came to know my Creator. It's the first time the gospel was brought to life in me, and I had a clear understanding and I'd started to read David Platt's Radical. It blew me away, what Christians were doing across the globe. When I started to get involved and read Operation World, where we could see what's going across the globe in Christian persecution, I thought I could call myself a Christian because I showed up at church. Yet people out there secretly hold services and their lives are in threat just to honor their Savior, which they can't keep quiet about. That opened my eyes.
THC: Final question: how do you respond to stereotypes—cultural, Christian, anything?
RA: An element of racism comes from not knowing or not being exposed, and the way I deal with it is to make fun of it. For example, sometimes I say to some of the directors I work with, if they're talking about projects, "If you need a gardener or lawn mower expert, I'm around," and they laugh at the stereotype. Anger serves no purpose.
Courageous is still a huge deal in the Latin culture. I still hear about it, how happy they were I wasn't a drug dealer or a bad guy in the movie. My character was the most upstanding person in the entire film, it could be argued—a different perspective on the Latino. The more we expose the error of stereotypes by laughing and demonstrating how inaccurate it is, we'll see greater changes yet.

It's a beautiful thing to expose people to how rich this side of another culture is.
EDITOR'S NOTE: This week on The High Calling, we're focusing on what holds you back in your work. Join us each day this week for articles, interviews, and reflections on what's holding you back—and how to move forward. If you or someone you know feels stuck and needs some encouragement, share one of this week's articles via email or social media.
Interview conducted by Nancy Lovell, writer and principal in Lovell-Fairchild Communications.
Flag image by Deidra Riggs. Used with permission.
Headshot of Robert Amaya, courtesy of Robert Amaya.