Looking for God in Films
Blog / Produced by The High Calling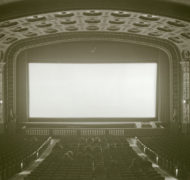 Craig Detweiler takes us on a journey that unequivocally declares that Art Matters, from the Sundance Film Festival to Europe, from contemplating architecture and priceless artwork and then back into the cineplex. We discover that we can see God in all these places if we have eyes to see.
For over a decade, I have been taking students from many different colleges and seminaries to the Sundance Film Festival, the largest and most influential independent film festival in America. In this week-long class, movie premieres serve as our textbooks, each one opened with a sense of anticipation.
The gathering is called the Windrider Forum, because we are moved by how the Spirit of God, the ruach of the Hebrew Bible, blows through the festival. It is a stirring example of general revelation, of God speaking through unlikely people in unexpected ways.
Surprised by God Stories in Movies
We have been stunned by the evocative explorations of faith found amidst profane settings and situations. Like the biblical prophets, independent filmmakers tend to afflict the comfortable and comfort the afflicted. Their films often wade into social problems that Hollywood tends to ignore. The stories can be thorny, depressing, and inspiring all at the same time.
Such smaller films may not triumph at the box office, but they offer refreshing alternatives to what's usually playing at the cineplex. We have been blessed by screenings (and discussions) of films like God Grew Tired of Us (2006), Into Great Silence (2006), Ida (2014), and the forthcoming Last Days in the Desert (in which Ewan MacGregor portrays both Jesus and the Devil).
A conversation with Carolyn S. Briggs, one of the co-writers of Higher Ground (2011), created room for doubts about faith to be expressed and hard questions to be asked. I've found that artistically inclined Christians need ample room to explore the corners of their faith. We offer permission.
The Sundance festival is also filled with thought-provoking films on the greatest cultural issues of our day. Screening the heartbreaking Fruitvale Station in 2013 made students fully aware that "Black Lives Matter" well before the protests of 2014. As we experience these films, our cultural perception becomes more mature.
We also hope to inspire a new wave of filmmakers to incorporate their faith with their art. At Sundance, we have an opportunity to learn from dozens of filmmakers telling their stories of originality, courage, and verve.
Students see how much professionalism and polish is necessary to cut through the clutter of content. They grasp that whatever issues or themes an artist may hope to explore must be communicated with creativity and excellence because the truth of a message can be muddled by mediocrity.
Recovering Christianity's Patronage and Practice of the Arts
For centuries, Christians have been at the forefront of the arts as patrons and practitioners. European cities are still distinguished by ancient cathedrals like St. Paul's in London, Notre Dame in Paris, and the Duomo in Florence. The architecture, the stained glass, the paintings proclaim the enduring story of Jesus' life, death, and resurrection. They were built with awe in mind, lifting both eyes and spirits upward.
Churches employed the finest artisans to create these inspiring edifices. Pope Julius II commissioned Michelangelo to produce some of the world's greatest masterpieces. Crowds still crane their necks to study his ceiling painting in the Sistine Chapel. Thank God for the French cardinal who hired Michelangelo to create the Pietà.
These now-priceless masterpieces were created via church patronage, a firm belief that Christians must support and embrace the finest arts of their day to communicate timeless truths.
The Protestant Reformation resisted the production of images but elevated the proclamation of the Word. Writers like John Milton, George Herbert, Anne Bradstreet, and Marilynne Robinson express their faith through remarkably eloquent words.
Slowly, Protestants have been rediscovering that the Word of God values the power of visual art to enhance worship. The book of Exodus is loaded with detailed descriptions regarding the construction of the Tabernacle. God takes a great interest in art, in color, in the material world. Particular artists like Bezalel and Aholiab are cited for their wisdom and ability to serve God through their craftsmanship.
Today's Christian Filmmakers
The Windrider Forum is starting to see the encouraging results of a decade of planting seeds at Sundance. In 2009, Destin Daniel Cretton, a graduate of Point Loma Nazarene University, entered his short film Short Term 12 along with another eight thousand entrants that Sundance receives each and every year. This film is rooted in Destin's experience working among foster youth and group homes. It is sad and funny, devastating and re-humanizing, all at the same time.
Not only was Short Term 12 chosen as one of the sixty short films shown at Sundance, but Cretton won the grand prize for Best Short Film—first among eight thousand competitors! Through the patronage of the Academy of Motion Pictures Arts and Sciences' Nichols Fellowship, Destin turned his short film into a feature-length script.
The feature film version of Short Term 12 won the Audience Award and the Grand Jury Prize at the 2013 South by Southwest Film Festival in Austin. Short Term 12 became one of the best-reviewed independent films of 2013 (with a whopping 99 percent approval rate on RottenTomatoes.com). Destin is now slated to write and direct Jennifer Lawrence in the cinematic adaptation of The Glass Castle.
God's people have been at the forefront of creative endeavors in the past. We are rediscovering our calling as culture makers. I am eager to see the stirring, faith-fueled art that is to come.