Religion + Life with Elaine H. Ecklund, Part 1
Blog / Produced by The High Calling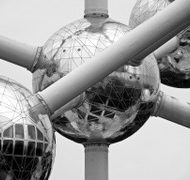 "Social scientists are always thinking of big theoretical projects. As a social scientist, I'm very interested in how individuals who are different from the institutions that constrain them bring change to those institutions." That's how Laity Leadership Institute Senior Fellow Elaine Howard Ecklund described the underlying theme of her work in a recent interview with The High Calling.

Ecklund's research thus far has focused on the often contentious areas of religion, immigration, science, and culture. Her 2010 book, Science vs. Religion: What Scientists Really Think, for example, confronted the popular notion that scientists are antagonistic to religion. We'll study its content in three upcoming articles.

Ecklund teaches at Rice University in Houston, Texas, and is married to particle physicist Karl Ecklund. She is the proud mother of a 2 year old and is currently residing in Geneva, Switzerland, with her family while her husband works on the Large Hadron Collider CERN experiment.
Ecklund previously investigated women's presence in physics, a branch of science in which they are underrepresented. She has also studied feminist women in the Catholic church, how pediatricians and pediatric oncologists grapple with religion, and how new immigrants bring change to Christian churches in America. Her doctoral dissertation led to the publication of her first book, Korean American Evangelicals: New Models for Civic Life.

"There are specific personal reasons that I came to each of these topics," said Ecklund. "I have a fairly diverse family background—a sister-in-law who is Vietnamese, an adopted niece from Africa, and an African American step-father—so I've always been interested in issues of diversity."

An example of the kinds of questions Ecklund likes to ask is "How will the Evangelical tradition become different as a result of the large influx of Korean and Chinese immigrants into their institutions?"

In the preface to Science vs. Religion, she described herself as having been a "wide-eyed collegian not raised in an intellectual environment" and said she was "struck" by the civility she heard between two professors debating evolution and Intelligent Design at Cornell University in Ithaca, New York, where she was an undergraduate student.

"I came away thinking that discussion about controversial topics can happen. I felt enlivened and eventually embraced a career in social science myself," Ecklund wrote.

"I was raised on Podunk Road, if you can believe it," she told The High Calling. "I come from a working-class farming family, and was raised by my grandparents. My grandfather was the county sheriff. I had an aunt who was college educated. She was the only person in my family among many who had received a college education. Sometimes my status as an academic 'outsider' helps me to be a better observer."

Ecklund said she has always been "scientifically-minded," but grew up in a "fairly fundamentalist" Baptist church where she heard science talked about negatively from the pulpit.

"I think that must have come up in my mind as I was thinking about what I was going to study. Also, that experience informs the kind of practical outreach that I want my work to have," said Ecklund.

"I've always wanted to study science. When the opportunity came along, I got hooked," she said. "I'm starting an international study right now where I'll be looking at how scientists understand religion and ethics, spirituality, and public challenges to science in six different nations."

Beginning March 29, we'll not only explore Ecklund's current and previous work on science and religion, but we'll also take a look at her work on immigration and medicine in this exciting bi-weekly series. We hope you'll join us!
***
Religion + Life with Elaine H. Ecklund, Part 1
Religion + Life with Elaine H. Ecklund, Part 2: Boundary Pioneers
Religion + Life with Elaine H. Ecklund, Part 3: Myth Busting
Religion + Life with Elaine H. Ecklund, Part 4: Worshiping Science
Religion + Life with Elaine H. Ecklund, Part 5: International Attitudes
Religion + Life with Elaine H. Ecklund, Part 6: Putting It All Together
Image by Matt Becker. Used with permission. Sourced via Flickr. Post by Christine A. Scheller.