Eager Hospitality
Daily Reflection / Produced by The High Calling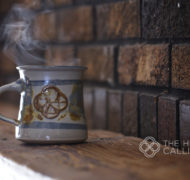 When God's people are in need, be ready to help them. Always be eager to practice hospitality.
Romans 12:13
Like most people, I enjoy hosting my friends. When people I know well come over for dinner, I feel relaxed and happy, glad to share my home with them. But as one who is not naturally extroverted, I find it harder to welcome people who are unfamiliar to me. Thus the exhortation of Romans 12:13, "Always be eager to practice hospitality," is a challenging one for me. Perhaps it is for you too.

The original Greek word for hospitality is philoxenia, which means, literally, "love of strangers" (philos = love; xenos = stranger). Philoxenia includes caring for those who are not your friends. It means sharing your belongings and even your heart with people you don't know well. This is both a high calling and a hearty challenge.

As I grow in my faith, I'm becoming more hospitable. In fact, my work with Laity Lodge is helping me become more enthusiastic about welcoming strangers. Howard E. Butt, Jr., the founder of Laity Lodge, along with Barbara Dan Butt, his wife, are masters of hospitality. So are all who have joined the Laity Lodge team. Thus, I have been able to witness close-up how a warm welcome can begin to turn a stranger into a lifelong friend. Witnessing the impact of hospitality in people's lives makes me more open—yes, sometimes even eager—to welcome strangers to Laity Lodge, and into my own life.

QUESTIONS FOR REFLECTION: Are you naturally inclined to practice hospitality eagerly? If so, how do you do this? How might you implement Romans 12:13 in your own life? Are there "strangers" God has placed in your life so that you might welcome them with Christ's love?
PRAYER: Dear Lord, you know that I'm not wired to "always be eager to practice hospitality." My natural shyness makes it hard for me to welcome those I don't know well. But you are working on me by your Spirit, helping me to stretch in new ways.

Thank you for showing me how hospitality can open hearts and change lives. Thank you for the marvelous example of Howard and Barbara Dan and all who have joined with them at Laity Lodge.

Even as you have welcomed me, Lord, help me to welcome others. Use me to share your love with all people, even and especially those I don't know. Amen.