The First Step in Sharing Our Faith with Others
Daily Reflection / Produced by The High Calling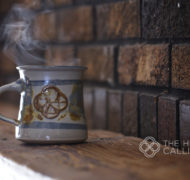 When I am with those who are weak, I share their weakness, for I want to bring the weak to Christ. Yes, I try to find common ground with everyone, doing everything I can to save some.
1 Corinthians 9:22
In 1 Corinthians 9, Paul has been using himself as an example of someone who gives up his rights for the sake of others. These others include, not only less mature Christians, but also those who are not believers in Jesus. Thus, when Paul was with Jewish people, he "lived like a Jew" (9:19). And when he was with Gentiles, he lived like they did (9:21). Summing up his evangelistic strategy, Paul writes, "I try to find common ground with everyone, doing everything I can to save some" (9:22).

The original language of verse 22 includes a repetition of the Greek word that means "all" or "everything." Translating literally, we read, "To all people I have become all things, in order that by all means I might save some." Of course, Paul does not mean that he engages in behavior that is morally wrong. He would not, for example, become drunk in a celebration of Dionysius, the Greek god of wine. But when it came to behavior that was morally neutral, Paul made every effort to connect with those he was trying to reach with the Gospel. He sought to speak in a way they understood, to live in a way that demonstrated his solidarity with them.

God wants to use every one of us as communicators of the good news of his love in Jesus Christ. This means, of course, that we have a story to tell. But people will not be open to hear this story unless we have a genuine relationship with them. Like Paul, we are called to find common ground with people, to share life with them so that we might share the Gospel with them.

QUESTIONS FOR REFLECTION: In what ways do you share life with those who are not Christians? How can we be "all things to all people" without compromising our moral convictions?
PRAYER: Gracious Lord, thank you for the example of Paul, who became "all things to all people" so that he might be able to share the Gospel with them. Help me, Lord, to know how I might imitate Paul's example. Give me wisdom to discern which behaviors to emulate and which to avoid.

Thank you, Lord Jesus, for the way you became "all things to all people." Indeed, you became human, sharing in our weakness and pain, so that we might know you and have relationship with you. You even took on our sin so that we might be forgiven. Thus, as I seek to imitate Paul's incarnational ministry, I am really imitating you. May I do so with wisdom and compassion. Amen.