Best of Daily Reflections: If Not for You, God
Daily Reflection / Produced by The High Calling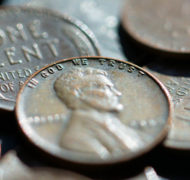 "If it had not been the LORD who was on our side … "
Psalms 124:1 (KJV)
Few feel more gratitude than the gravely threatened and then mercifully spared.
Years ago I went hiking with some coworkers. Our aim was a high plateau in the Texas Hill Country where a spread of barbeque and all its accompanying delights awaited us. There was one catch: to get to the feast, we had to climb. Our host assured us that the trail was an easy one, but what began as a gentle, sloping ascent quickly became quite difficult. I was clearly not wearing the right footwear for the terrain, and I struggled for balance again and again.
Every time I placed my foot, I prayed that it would hold, and, honestly, I was frightened. Cresting each ridge, I strained for a glimpse of the promised plateau and the friends waiting there. When we finally reached the top, together we gulped down cold water and ate fresh oranges, a prelude to the taste of good, grilled food. We laughed the relieved laughter of survivors who had weathered a threat together.
Psalm 124 recalls the threats faced by the Israelites as they followed God. This song of ascents names those threats and remembers the ways God delivered his people out of them. "If it had not been the LORD who was on our side," they sing, we would have been swallowed up, swept away, ensnared, torn to pieces.
Each of us has been gravely threatened by sin: by the gone-wrongness of this world and by our own heart's fatal tendency to harm. In Christ, we have been rescued, and for this, we should be full of thanks. If not for the LORD, we could never sing the happy song of the redeemed.
FOR FURTHER REFLECTION:
When was the last time you were afraid? What did you learn about God in those moments? What did you learn about yourself?
PRAYER:
Lord, we thank you for your rescue. When we remember the ways you have been our help, we can't stop singing your praise. Thank you for being on our side, especially when the way is hard. You, maker of heaven and earth, are our king and our deliverer forever. Amen.
READ THE SCRIPTURE IN CONTEXT:
If the Lord had not been on our side—
let Israel say—
if the Lord had not been on our side
when people attacked us,
they would have swallowed us alive
when their anger flared against us;
the flood would have engulfed us,
the torrent would have swept over us,
the raging waters
would have swept us away.

Praise be to the Lord,
who has not let us be torn by their teeth.
We have escaped like a bird
from the fowler's snare;
the snare has been broken,
and we have escaped.
Our help is in the name of the Lord,
the Maker of heaven and earth.

Psalm 124
Please contact Leigh McLeroy directly with any requests to reprint this post.