What I Wish My Pastor Knew About My Job: August 17 Newsletter
Newsletter / Produced by The High Calling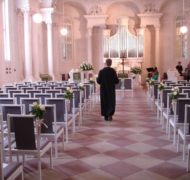 Has your pastor ever visited your workplace? Mentioned the kind of work you do in a sermon? Given you guidance on a tough ethical issue at your job? If so, great. If not, you're not alone. Many people would like to see more guidance for their 9-5, M-F lives from their Sunday pulpits.
In this newsletter we'll hear that the call for pastors to equip their people is a biblical one. For those of you who are pastors, we have ten good tips for bridging workplace and worship-place. And a classic article from Christianity Today will remind us to ask for pastoral input and counsel with the tough stuff—and remind pastors to be ready and willing to give it.
Pastors and laypeople alike, the world needs all of us in mission and ministry in the high calling of your daily work. Read on.
What Are Pastors Supposed to Do For You?
From The High Calling
The truth of Ephesians 4:11-12? Expect your pastor to equip you to live your whole life as ministry. Read more
C'mon, Pastors, Get With the Work Program
From The High Calling
Ten tips to help pastors encourage folks in the high calling of their daily work. Read more
When the Sermon Goes to Work
From the Theology of Work Project
Haddon Robinson's classic article encourages parishioners not to be afraid to ask for daily-life wisdom and counsel from their pastors. Read more