After the Election, Now What? November 9 Newsletter
Newsletter / Produced by The High Calling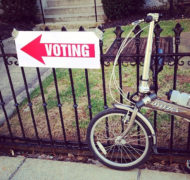 Earlier this year, we ran this newsletter about being a gracious Christian in a contentious election season. Today, the morning after the election, we thought its message was worth repeating. We share it with you again today, along with a bonus interview by former U.S. Mint Director Ed Moy about trying to follow God faithfully in government.
As we noted before, someone needs to rise above the political noise and begin to treat others with grace, understanding, and a willingness to listen. Christians, why not us? The stakes are high on this one. Let these writers help you as you act like an agent of God's Kingdom in a world that sorely needs it.
The Ten Commandments of Talking Politics on Social Media
From The High Calling
Let's hold each other accountable to a higher level of discourse on social media. Our friends and coworkers will appreciate it. Read more
You Shall Not Bear False Witness Against Your Neighbor
From the Theology of Work Project
Lots of misinformation goes around during political seasons. It's up to Christians not just to tell the truth, but to stop rumors in their tracks. Read more
Praying for Political Leaders from the "Other Side"
From The High Calling
Consistent prayer for our leaders is right no matter what their political views are. Prayer for those "across the aisle" can remind us that they too are made in God's precious image. Read more