Graduated! Now What? May 17 Newsletter
Newsletter / Produced by The High Calling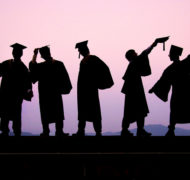 What happens after someone walks off stage diploma in hand? Despite the speeches they may have just heard urging them to do better and go farther, many recent graduates of high schools, colleges, and universities are unsure what to do and where to go. This week we remind graduates and everyone else that God is with them, no matter what transitions life brings. Read on.
It's Beginning to Make Sense
From The High Calling
I am still uncertain about my own vocation. I just know that I'll proclaim the truest truth wherever I end up. Read more
Do You Really Know What's Best for Your Life?
From The High Calling
"Trust your intuition," say the graduation speakers. This message deserves a reality check. Read more
Vocation in the Context of Community
From the Theology of Work Project
Today's Christian communities should participate alongside families and young people as they seek answers for questions such as, "What do you want to do when you grow up?" "What will you do after graduation?" or "To what is God calling you?" Read more