The Pleasures of Living With God
Daily Reflection / Produced by The High Calling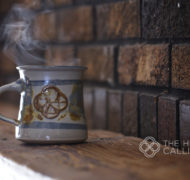 You will show me the way of life, granting me the joy of your presence and the pleasures of living with you forever.
Psalm 16:11
A few weeks ago, I noted in a reflection that buses in Britain are displaying signs that read: "There's probably no God. Now stop worrying and enjoy your life." The British atheists and agnostics who are paying for these placards have assumed that belief in God is somehow inconsistent with enjoying life. Unfortunately, this perception may have something to do with the dour demeanor of some Christians, who see faith as a necessary downer and the Christian life as one long series of dos and don'ts (mostly don'ts).

In truth, the greatest joy in life comes from knowing God and his love, and then living in a daily relationship with him. As Psalm 16 affirms, God shows us "the way of life," that is, the best possible way to live. We who know him through Christ get to experience the joy of his presence and the pleasures of living with God.

What are these pleasures? Surely they include the experience of God's love and forgiveness, not to mention the peace that passes understanding. When we live in relationship with God, we know that our lives matter, and that we have been called to live for the praise of God's glory (Eph. 1:14). Among the pleasures of living with God is the happiness that comes when God uses us to touch the lives of other people. This is just the beginning.

Perhaps we should put up signs that read, "Since there is a God, stop worrying and start enjoying your life."

QUESTIONS FOR REFLECTION: Have you experienced the pleasures of relationship with God? When? What helps you to know the joy of the Lord on a regular basis?
PRAYER: Dear Lord, what a privilege it is to know you personally. Indeed, you do show me the way of life. As I pay attention to your Word and listen to the whisper of your Spirit, my life is so much better than if I had followed my own intuitions or believed the false promises of the culture.

Even more wonderful than living well is the joy of your presence. I have known that joy, sometimes exploding within me, but often as embers that cannot be extinguished. Thank you, gracious Lord, for making yourself known to me. Thank you for inviting me into your family. Thank you for allowing me to enjoy your presence.

O Lord, may I grow in my experience of you, knowing you both in head and in heart. May I experience still more of the joy that comes from simply being in your presence. Amen.