Top 15 Poetry Picks for Christmas
Blog / Produced by The High Calling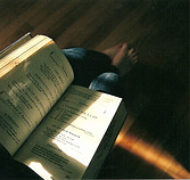 Fifty-four days until Christmas! Here at The High Calling we want to help you fill the stockings of all folks bookish on your list. This week we're offering recommendations for your poetry lover…or for you. I know a few of these are going on my wish list.
Crowning the list is my current familiar—Swan by Mary Oliver. This pearl accompanied me on a recent retreat in Texas, helping bridge the way there quite nicely.
I wasn't expecting to find comfort in those thin pages. I was looking for distraction--inspiration. But the words knew my heart required more. The poet knew. And so, as the small plane lifted higher into the air, carrying me away from family and into the arms of new friends…I opened the book.
The leaf has a song in it, she said.
Joy is not made to be a crumb, she said.
I read the entire book, front to back—then back to front. I whispered the words out loud, enjoying the way they felt in my mouth—beads of dew dropped in the midst of the storm of engine noise. Some lines asked to be repeated. Again. And thus, I worked my way from West Virginia to Texas.
It was a before-Christmas harvest feast.
I hope your poem-lover finds that in the stocking on Christmas morn--a feast.
Some menu suggestions:
Speak to Us in Poetry (in our comment section)
Do you recognize any of the books on this list? Share a favorite poem excerpt from one if you like. Or, if you have a poetry pick we didn't include, tell us the name of the book and include an excerpt to show us why you love it.
Our Christmas Lists
Photo by Gracie Cannell, used with permission.