Privacy Policy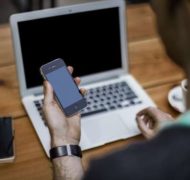 Below you will find the updated Privacy Policy for www.theologyofwork.org. We value your trust, and make it a high priority to ensure the security and confidentiality of the Personal Information you provide. By visiting this website, you are accepting the practices described herein.
The Theology of Work Project is an independent, non-profit organization headquartered in the state of Massachusetts in the United States ("we," "us," "our," and "TOW Project").
"Personal Information" means any information that identifies or can be used to identify a website visitor, directly or indirectly. Examples of Personal Information include, but are not limited to, email address, gender, occupation, or other demographic information.
"Website(s)" means any website(s) we own and operate.
"you" and "your" means, depending on the context, a website visitor or someone who has subscribed to receive updates from us.
Information we collect from you
Automatic Information. We automatically collect some information about your computer when you visit this website. For example, we will collect your IP address, Web browser software (such as Firefox, Safari, or Internet Explorer), and referring website. Our goal in collecting this information is to better understand who we are serving and help customize your experience. For more information, please see below about Cookies and other technologies.
Opt-in Information. Certain parts of our Websites may ask you to provide Personal Information voluntarily. For example, we may ask you to provide certain Personal Information (such as your name, email, profile information) in order to sign up for our newsletter. We may also collect Personal Information, such as your contact and job details and feedback, when you attend our events, take part in surveys, or through other business or marketing interactions we may have with you. You may choose to provide additional information when you communicate with us or otherwise interact with us, and we may keep copies of any such communications for our records.
The Personal Information that you are asked to provide, and the reasons why you are asked to provide it, will be made clear to you at the point we ask you to provide your Personal Information.
Cookies and other technologies
Cookies are small data text files and can be stored on your computer's hard drive (if your Web browser permits). This website uses cookies and other tracking technologies for the following general purposes:
To help us recognize your browser as a previous visitor and save and remember any preferences that may have been set while your browser was visiting our site. For example, in the past, we've offered new visitors a free ebook. If someone visited the site and indicated that he/she didn't want the ebook, a cookie was saved so that he/she wouldn't receive the same offer again on a future visit.
To help us customize the content and advertisements provided to you on this website and on other sites across the Internet (targeted online advertising). We use this information to serve you with ads, on our website or others, that match your interests. For example, someone who has visited our "Pastors" page may see an advertisement on Facebook about an event that we're hosting for pastors. Our third party service providers may also use cookies or web beacons to collect information about your visits to our Websites and/or other sites to measure and track the effectiveness of advertisements and our online marketing activities (for example, by collecting data on how many times you click on one of our ads). The information collected by these third parties does not include personal information that enables you to be specifically identified by us (e.g. by reference to your name or email address).
The Help portion of the toolbar on most browsers will tell you how to prevent your browser from accepting new cookies, how to have the browser notify you when you receive a new cookie, or how to disable cookies altogether.
Please note that the information practices of third parties are not covered by this Privacy Policy.
Use of information
We may use the information we collect through our Websites for a range of reasons, including:
To provide, operate, optimize, and maintain our Websites.
To send you information for marketing purposes, in accordance with your marketing preferences.
To respond to your online inquiries and requests, and to provide you with information and access to resources or services that you have requested from us.
To manage our Websites and system administration and security.
To improve the navigation and content of our Websites.
To identify any server problems or other IT or network issues.
To process transactions.
To compile aggregated statistics about site usage and to better understand the preferences of our Visitors.
To carry out research and development to improve our products and services.
To customize content and layout of the Websites.
To carry out other legitimate business purposes, as well as other lawful purposes.
In addition, we may combine Personal Information with other information we collect or obtain about you (such as information we source from our third-party partners) to serve you specifically, such as to deliver a product or service according to your preferences or restrictions, or for advertising or targeting purposes in accordance with this privacy policy. When we combine Personal Information with other information in this way, we treat it as, and apply all of the safeguards in this privacy policy applicable to, Personal Information.
Third party services used by this site include: AddThis, OptinMonster, YouTube, Vimeo, SoundCloud, iTunes, Facebook, Disqus, Google Analtyics.
This site uses invisible reCAPTCHA technology to detect bots. reCAPTCHA works by collecting hardware and software information, such as device and application data, and the results of integrity checks, and sends that data to a reCAPTCHA service provider for analysis.
External links
If any part of this website links you to other sites, those sites do not operate under this Privacy Policy. We recommend you examine the privacy statements posted on those other websites to understand their procedures for collecting, using, and disclosing Personal Information.
Visiting our website from outside the United States
If you are visiting our website from outside the United States, please be aware that your information may be transferred to, stored, and processed in the United States, where our servers are located and our central database is operated. The data protection and other laws of the United States and other countries might not be as comprehensive as those in your country, but please be assured that we take steps to ensure that your privacy is protected. By using our services, you understand that your information may be transferred to our facilities and those third parties with whom we share it as described in this Policy.
This Privacy Policy is effective as of May 25, 2018.