How to Make the Right Decision (Devotional)
Devotional / Produced by TOW Project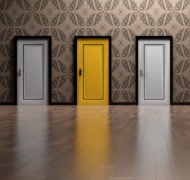 We often face ethical dilemmas in our work. How can we use the Bible to make the right decisions? Each day of this plan provides a real-life case study on a tough decision, plus biblical decision-making principles that you can take to work.
You can find this devotional on the YouVersion Bible App (download the app here), or read the How to Make the Right Decision devotional on Bible.com
Excerpt:
In the fall of 1982, James Burke, the chairman of Johnson & Johnson, faced the biggest crisis of his career. J&J learned from a reporter that their flagship product, Tylenol, had been linked to seven poisoning deaths in the Chicago area. No one knew how or why the capsules had been poisoned, and Burke didn't know how widespread the danger to the public might be.
What would you do?
The Bible suggests we should start the decision-making process by considering the potential consequences of our actions. Deuteronomy 28 shows that some actions bring blessings while others bring curses. What actions could Burke take to save his company from potential curses? How could he bless consumers and the Tylenol brand for the future?
Read How to Make the Right Decision on Bible.com
---
---