Finding God in Unemployment (Devotional)
Devotional / Produced by TOW Project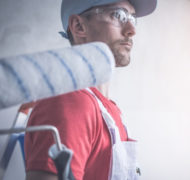 Unemployment can challenge us spiritually, physically, mentally and emotionally. This 7-day plan will help you seek God in the midst of the difficulties of unemployment.
You can find this devotional on the YouVersion Bible App (download the app here), or read the Unemployment devotional on Bible.com
Excerpt:
We may be very familiar with the verses from Romans 8 about God's unfailing love. But have we ever thought about applying them in our unemployment?
Christ's faithfulness—and ours, by God's grace—overcomes the worst that life can do to us. If career progress, income, or prestige are our highest goals, we may end up disappointed; and that disappointment can be felt most acutely when we're unable to find work. But if salvation—that is, reconciliation with God and people—is our chief hope, then we will find it amidst both good and bad, both in work and out of work. Christ died and rose and is at the right hand of God interceding for us. Even our darkest moments cannot separate us from God's love. We can rest in that knowledge.
Read Finding God in Unemployment on Bible.com
---
---