Hope for Kids when School Is Hard (Devotional)
Devotional / Produced by TOW Project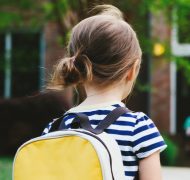 Your kid said, "I hate school" or "I'm no good at math." You need God's help. Read this plan together, or listen to it in the car on the way to school. You'll hear Jesus' words driven home through the story of one kid's struggle with school. Suggested activities each day help parents and kids connect to hope together.
You can find this devotional on the YouVersion Bible App (download the app here), or read the Hope for Kids when School Is Hard devotinal on Bible.com
Excerpt:
"I'm no good at math," Lucas said.
"Oh, cut it out," his mother said, "We have to leave for school in fifteen minutes."
"I'm not going!" Lucas yelled. "Math is stupid! I hate school!"
Have you had a fight like this one? Have you ever felt "no good" at something?
There's hope for kids who feel "no good" at school. We can find that hope in the Bible. From the very beginning, God created each of us "good." What's more, as soon as God created people, he gave everyone important work to do. Take charge of the world, God said in Genesis 1:28. Schoolwork is an important part of taking charge. God cares very much about your work and about you when you're at school.
Read Hope for Kids when School is Hard on Bible.com
---
---