Course Module in Theology - Work and Eschatology
Seminary Curriculum / Produced by TOW Project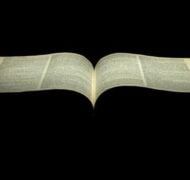 It is surprising that few systematic theology texts or courses demonstrate interest in exploring the meaning of work from a theological perspective. Every category in systematic theology offers a lens for examining the meaning of work. Our daily work, both paid and unpaid, is a reality that consumes most of our time and energy in this life, so making these theological connections is imperative.
This article suggests some themes that might be developed to help students think about the meaning and purpose of work from an eschatological perspective. Is our work only about sustaining physical life in this world, or does it have spiritual and eternal value that continues into God's new creation?
Popular Conceptions
Many popular conceptions of eternity with God – the end point of Christian eschatology – are built around glimpses of eternal rest or eternal worship services. For many Christians, these are not particularly compelling or attractive futures if they are isolated from activity and accomplishment. People can't imagine how they will find fulfilment in a purely passive future, or singing worship songs that go on forever. We have been created to contemplate and worship God, yes, but also to be actively involved in God's creation. People want more from a vision of the future if it is to be worth looking forward to and working toward.
Questions Worth Addressing
Does the phrase "eternal rest" imply that there is no work in the end, or just that work will no longer include drudgery and struggle?
If there is work in the end, what sort of work is it?
How much continuity and discontinuity is there between work in this creation and in the new creation?
Does our present work have any eternal significance?
Does any of our present work or the fruit of our work survive in the new creation?
In what ways is work impacted by our understandings of the resurrection of the body and the final reconciliation of the cosmos to God?
Theology of Work Project Resources
The Theology of Work Project has developed a number of resources that can help correct popular misconceptions and provide students with a compelling and scripturally-grounded vision of what Christian eschatology means for our work now and eternal life with God:
The TOW Theological Foundations page provides a condensed outline for a theology of work, including a section on the New Creation.
Commentaries on the following passages address a number of the questions above
Of course you can also search for other topics on www.theologyofwork.org, by typing in phrases like "new creation" or "future hope" or "work and resurrection," or by viewing articles that have already been tagged in our alphabetical search listing with tags including "Work in the New Creation," "Kingdom of God – Restoration of the World," "Eternity," "Eternal Perspective," or "Material World, the Spiritual Value of."
Other Resources
Nathan Hitchcock, associate professor of Church History and Theology at Sioux Falls Seminary, has previously addressed the issue of "The Resurrection of the Body in Our Work" in the May 2015 edition of the Oikonomia Network newsletter. Hitchcock says:
How then shall Christians work? By imitating the healing God in their own creaturely way. They cannot raise the dead, but they join in the anticipatory work of elevating bodies. By the Spirit of resurrection, in anticipation of the final day, Christians work to see thriving bodies.
Darrell Cosden's scholarly work A Theology of Work: Work and the New Creation and his more popular The Heavenly Good of Earthly Work offer helpful introductions to these issues. A more condensed essay exploring similar concerns is offered by John Jefferson Davis in "Will There Be New Work in the New Creation?" You can find it in Evangelical Review of Theology, Vol 31, No.3 (2007) pp 256-273; or in J.J. Davis, Practicing Ministry in the Presence of God, Wipf & Stock, 2015.
ASSIGNMENT

Does the work that we do, or the fruit of our work, survive in the New Creation? If so, explain in what ways you understand this to be true. If not, is there any eternal significance in our present work?
Identify key scripture passages and themes that have influenced your thinking and conclusions. Also demonstrate that you have considered the work of Darrell Cosden in The Heavenly Good of Earthly Work (Paternoster/Hendrickson, 2006) and at least one other prominent theologian of your own choosing who has addressed this topic.
---
---