52 Workday Prayers: Psalm 48 - God's Greatness and Human Work
Prayer / Produced by partner of TOW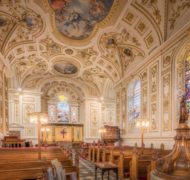 Great is the LORD and greatly to be praised
in the city of our God.
His holy mountain,
beautiful in elevation,
is the joy of all the earth,
Mount Zion, in the far north,
the city of the great King.
Psalm 48:1-2
Prayer
O Lord, you are great, great beyond measure. Because you are great, you are greatly to be praised, praised beyond measure. We cannot begin to find the words to reflect your greatness. But we use all that we have to glorify you.
Including the products of our work!
Your greatness was once seen and celebrated in the city of Jerusalem. It's towers, ramparts, and citadels proclaimed your majesty. Yes, these human creations shone with your glory.
So may it be in my work today. No matter how humble my work appears, no matter how lacking in human recognition, may you be glorified through my labors. May your greatness inspire me as I work. May the products of my work give you glory. Amen.
Ponder Throughout the Day
Let the greatness of God inspire your work. Let your work extol the greatness of God.
For Further Reflection
Read all of Psalm 48, paying attention to what the Spirit of God is stirring up in your heart, especially in relationship to your work. Talk with God about what you are thinking and feeling.
You might also reflect on this passage from Genesis:
So God created humankind in his image,
in the image of God he created them;
male and female he created them.
God blessed them, and God said to them, "Be fruitful and multiply, and fill the earth and subdue it; and have dominion over the fish of the sea and over the birds of the air and over every living thing that moves upon the earth." – Genesis 1:27-28
---
This prayer is part of a collection: 52 Workday Prayers: Learn from the Psalms How to Pray through Your Work. To purchase this devotional and small group guide, visit the De Pree Center store.