"How Do I Discern God's Path for My Career Development?" Webinar - July 17, 10-11:30am PDT
News and Events / Produced by TOW Project and Partners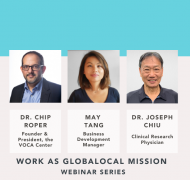 ​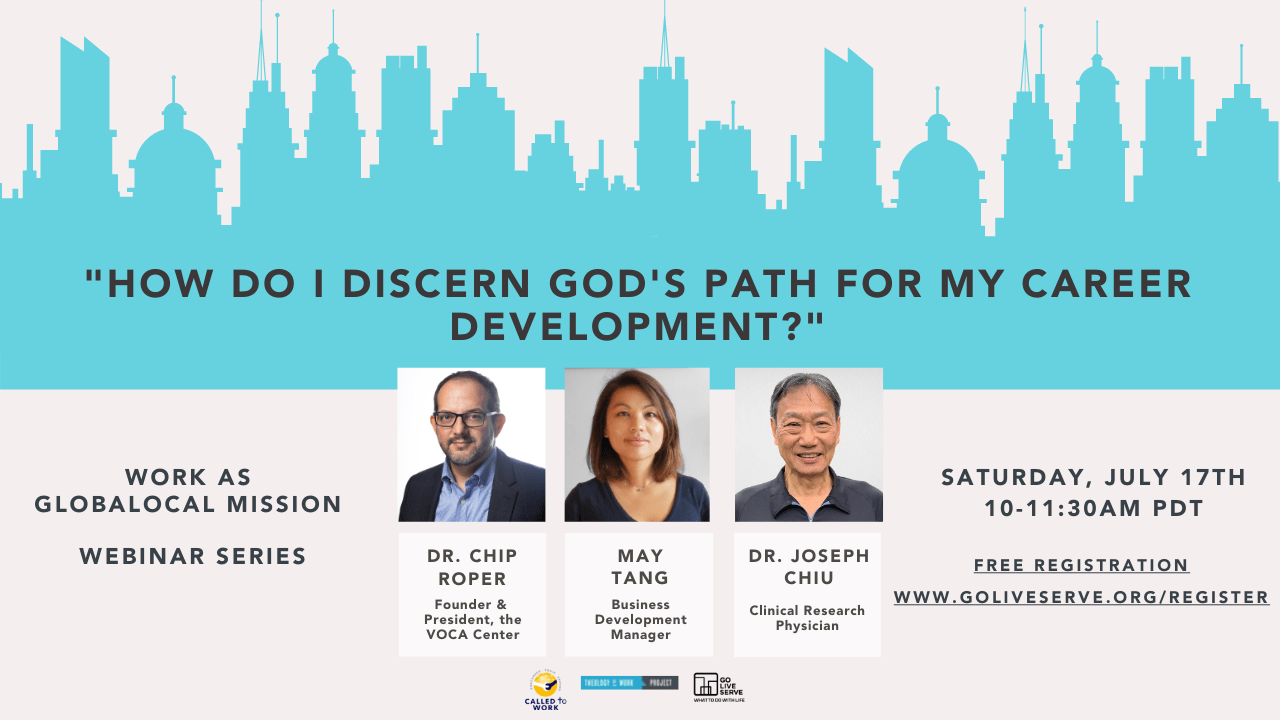 In this live webinar, our panelists answer your questions about discerning your calling and following God's lead for your career. Saturday, July 17, 10-11:30am PDT. Register for free now.

Webinar Panelists
Dr. Chip Roper is the Founder and President of the VOCA Center, a faith-based organization driven to help people in their effectiveness and joy at work through coaching and training. In addition to coaching, the VOCA Center hosts the Resilience Webinar series, the Resilient Faith and Work Podcast, and the Career Navigator Podcast. Chip is also the managing partner of RKE Partners Inc., a talent and leadership consultancy that combines powerful frameworks, professional coaching, and the IQ compounding of a team to drive performance-enhancing results for leaders and teams. With Executive Coaching training from Columbia University in New York City as well as graduate-level training in leadership, counseling, and pastoral care, Chip tackles client challenges from 30+ years of P/L leadership responsibility as a small businessman, a pastor, a career coach, and a business consultant.
May Tang has over 16 years of experience working in Sales and Business Development for Fortune 500 companies, and currently works as an Architect and Design Manager at Toto USA. She also recently obtained her Master for Mental Health Counseling at Alliance Theological Seminary and has a passion for working with marginalized communities, as well as those recovering from substance use disorder(s). May has extensive experience tutoring and mentoring immigrant Chinese youth at Chinese Christian Herald Crusades, a social service organization in NYC. She has traveled to South America, Asia, Europe, and Africa, inspiring a desire to take her professional experience and skills abroad to serve Central and South America through partnering with community-based missions organizations in the future.
Dr. Joseph Chiu is a physician with 30+ years' clinical research experience in developing new treatments and vaccines against infectious diseases of global public health importance. His career has taken him to Thailand during the country's AIDS epidemic, where he spearheaded a community-based HIV prevention program to mobilize local churches in HIV prevention and care. During his career with the National Institutes of Health (NIH) and a non-profit, he was involved with many collaborative research projects conducted in developing countries. Since retiring at the end of 2019, he has been able to use his medical expertise to help the community deal with the COVID-19 pandemic. Joseph and his wife Eugenia have been married for 38 years and have two grown children (Jocelyn & Derek) who were raised overseas.​

Work as GlobaLocal Mission Webinar Series
This is the third webinar in our "Work as GlobaLocal Mission" webinar series.
March 27, 2021: "How does my secular work have kingdom impact?" Watch here
Mary 15, 2021: "How do I foster meaningful work relationships and influence workplace culture?" Watch here
July 17, 2021: "How do I discern God's path for my career development?" Register here
Sponsored by Called to Work, GoLiveServe, and Theology of Work Project.