Chick-Fil-A: More Than Just a Chicken Sandwich (Video)
Video / External content not produced by TOW Project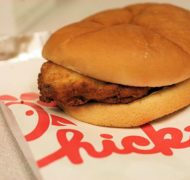 The Table Podcast is hosted by Dr. Darrell Bock, Executive Director for Cultural Engagement at the Hendricks Center at Dallas Theological Seminary in Dallas. In this episode, Dr. Bock and Jeff White discuss faith and work, focusing on how faith in the workplace at Chick-Fil-A helps the world to flourish. To learn more, visit The Table Podcast.
Transcript:
We cook. But we don't just serve sandwiches. We serve meals made from good ingredients, warm and cared-for from the time they're cooked to the moment they're served.
We prepare - but not just a meal – an experience. Everything we do is with the greatest of care. A clean table. A pair of pickles laid on a bun just so. Our love is wrapped up in the little things – the in-between things that aren't said but are always felt.
We believe with all our hearts that kindness is a higher calling. We want to know people – to nourish them. We love seeing individuals, teams, and communities brighten lives by caring for others.
We build on a legacy of one man's pioneering spirit, his faithful stewardship, his vision that being your best requires hard work, that local ownership isn't just unique – it's the best way to do business, and that giving generously can help good to grow.
We are more than a restaurant. We're a home where the hugs are just as tender as the chicken, the smiles just as sweet as the lemonade, and the conversations just as nourishing as the meal.
To those we serve: neighbors, friends, family, we are Chick-fil-A.
This video appears as an illustration of calling in "The Calling of the First Disciples (Mark 1:16-20)" in Mark and Work and as an illustration of family and work in "The work of marriage, raising children, and caring for parents (Psalm 127, 128, 139)" in Psalms and Work at www.theologyofwork.org.
Used with kind permission from the Hendricks Center.