Course Module in Ministry - What Might an Equipping Church Look Like?
Seminary Curriculum / Produced by TOW Project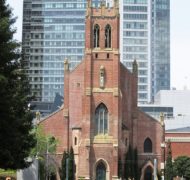 Lesslie Newbigin's book The Gospel in a Pluralist Society includes a chapter about "The Congregation as Hermeneutic of the Gospel". Newbigin says, "The congregation has to be a place where its members are trained, supported and nourished in the exercise of their parts of the priestly ministry in the world. The preaching and teaching of the local church has to be such that it enables its members to think out the problems that face them in their secular work in the light of their Christian faith".
ASSIGNMENT IN ECCLESIOLOGY / MISSIOLOGY
Explain how you respond to this statement from Newbigin. Also describe a number of specific strategies that might help to facilitate this in your local church setting.
Write down the words that you could use to communicate both this challenge and your practical suggestions to your church leadership team.
The TOW Equipping Church Overview paper might provide additional resources for this essay.