A Hymn of Work: God of Offices and Kitchens
Devotional / Produced by partner of TOW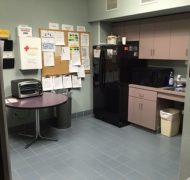 This is an Australian hymn modified by Colin Wood.
For best results, use the tune of "What a friend we have in Jesus."
God of offices and kitchens
Lecture halls and factory floor,
God of internet, computers,
T.V. screens and so much more.
You are always here around us
Even when we do not know.
Help us realize your presence
That our Spirit life may grow.
Ploughing, seeding, patient waiting
For the harvest of the soil;
Typing, phoning and collating
You are with us in our toil.
In the workshop, store and office,
Classroom, kitchen, garden, too,
Help us see your gift and glory,
Serve you well in all we do.
Scattered in our congregations
Yet one body called to be;
Reaching out to fellow Christians,
Serving the community.
Thanks to you for love that binds us;
For the strength to do your will.
Father keep us true and faithful;
May we love and serve you still.