Bible Study Videos for Your Group, Free Online
News and Events / Produced by TOW Project and Partners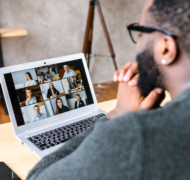 God has a purpose for your work. And with over 800 passages that apply to work, the Bible can help you connect to God's wisdom, encouragement, and guidance.
PRS.work is a series of online video Bible studies connecting God's word and your work. You can use PRS.work by yourself, with a small group from church, or even with a lunchtime Bible group. PRS.work videos are ready for you to use online, for free! Check out these tips to get started.
You can also check out an already existing group.
May hearing God's word encourage you today!
PRS.work is produced by Public Reading of Scripture and the Theology of Work Project.