Theology of Work Project Leaders Participate in Lausanne Global Workplace Forum 2019
News and Events / Produced by TOW Project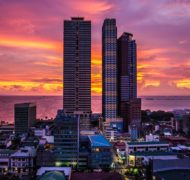 Theology of Work Project leaders participated in the Lausanne Global Workplace Forum in Manila, Phillipines, on 25-29 June 2019. The conference gathered working Christians and pastors to call Christians from around the world to tear down the "sacred-secular" divide that keeps everyday work and faith separate. Of the nearly 900 participants from 110 countries, 65% identified as having a primary workplace outside of churches or faith-based organizations.
TOW Project participants included: Andy Mills (speaker), Will Messenger (GWF Programme Team, curator and editor of pre-conference preparation materials), Gordon Preece (GWF Programme Team), Clint Le Bryuns (speaker), LT Jeyahandran (speaker).
For more information about the conference, including a summary report and session videos, visit the Lausanne Global Workforce Forum webpage.