Hope for the Overworked from Brother Lawrence (Video)
Video / Produced by partner of TOW
Chuck Conniry, Vice President and Dean of George Fox Evangelical Seminary, shares good news for people caught in endless frenzied work. Brother Lawrence, the patron saint for the overworked, shows how Christians can engage deeply in spirituality without having to escape to a quiet place. In fact, work can be a context in which we experience Christ's presence.
Bookstore
The Practice of the Presence of God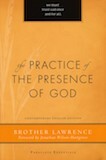 This classic memoir by Brother Lawrence brims with wisdom and spiritual insight.
Copyright
Used by permission of George Fox Evangelical Seminary. All rights reserved.