Welding, Creating, and Kingdom Building
Article / External content not produced by TOW Project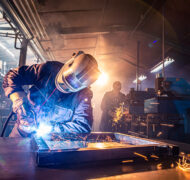 "I can literally weld with my eyes closed," says Mike. "I almost feel like it's a prayer when I'm welding because I'm using the gifts that God's given me."
Mike is an accredited and certified welder and auto mechanic – now shaping the next generation of welders as an instructor at a technical college. "As I start welding, I can just feel God with me," he says, "almost placing my hand where it needs to be."
To hear Mike speak of welding is to glimpse the world through the eyes of a creator deeply in tune with his Creator. To understand this connection, Mike circles back to Genesis. "God gave us dominion over everything and that includes the elements," he explains. "As a welder, He's given me the skills to control fluid metal and put things together in a safe manner."
To put it simply, "It's a command from God – we have to create. We have to build."
But it's more than just building or creating.
For Mike, tradesmen play a critical role in reflecting God's kingdom by doing good work and contributing to their local communities. "(God) says, 'I gave you these skills, now use them! Remember that they are a blessing from God and use them to help others,'" Mike explains.
Understanding this bigger picture and community impact is what Mike strives to instill in his students. To do so, however, he first has to help them see past certain misconceived assumptions or stereotypes attached to the industry and those who work in it.
"People often think that tradesmen don't know how to think, (that) we don't know how to go to college. That's not true. We think critically all the time – we have to," Mike says.
"We build the buildings that you're in right now. We fix the cars that go down the road. We put up the communication systems that power our cell phones."
Taking it a step further, Mike sees the technical mind, the ability to problem-solve and think critically, as a God-given gift to those in this industry. "It equips you to go out there and fix problems," says Mike.
But the industry is not without its challenges. Companies often experience high turnover, a revolving door of welders. There are often drugs, alcohol, and a general disconnect from the job's wider, community impact. Similar challenges often touch the lives of the students and adults who find their way into Mike's classroom.
Connecting with his students is key – both professionally and relationally.
And in this industry, it's all about respect. "If you can talk the talk and you can walk the walk, (then) you've got their ear," he says. For Mike, that respect comes from his unique personal and professional journey.
"If my pastor was to walk into a welding shop and start trying to talk Jesus, they'd tie him up," Mike says chuckling. "(But if) I walk in and start doing it, half would walk away but the other half would stop and listen."
Looking back on his life, Mike can now see how God orchestrated every step. From job choices to personal highs and lows – all of it played a role in earning him the credibility and relatability to connect with these students.
"God put me where I needed to be every time. From the time I left high school until I became a Christian – everything I did was training and equipping me to be able to talk to these folks," says Mike. But it wasn't always so clear.
Becoming a welding instructor was something that Mike kind of stumbled into. Frustrated and unhappy at his previous job, Mike was offered the opportunity to teach. "Look man, I need an instructor now, and you're it," Mike remembers being told by a friend working at the school. But he wasn't so sure. "I thought 'No way.' Me with my gruffness and military background – I thought there was just no way that I could do that."
Eventually, he agreed, but only until the school could find a "real instructor," Mike recalls. It didn't take long, however, for him to discover that he loved teaching. Starting out with only 12 students, he now teaches over 150; and in 2020 Mike was named Instructor of The Year at his school.
Over the years, Mike's prominence and influence grew.
He became well-known within the industry, and at one point was promoted to department director, overseeing 40 instructors and 38 programs. Last year, however, he chose to step down and refocus solely on teaching. When asked about his decision, Mike responds simply, "It wasn't what God wanted me to do. What God meant for me to do was minister to these kids."
And that's exactly what Mike does every day by authentically showing up, teaching, and investing in the lives of his students.
"I started off just by being me," says Mike.
Pretty soon, people noticed that he carried himself differently. When a new high school class came in talking about drinking and messing around, Mike immediately set them straight. "I had to sit them down and say, 'Hey, look guys, I don't roll that way. I look rough and tough, but I don't speak that way. I don't talk about those things. They're not me. I'm a Christian; I'm with Jesus,'" explains Mike.
In the beginning, everyone who worked with him in the classroom were also Jesus followers. "We would come into the office and talk about welding or about Jesus; it didn't matter. We always kept the door open so the students would hear us. Soon, I had kids knocking on my office door saying, 'Hey, you said this about Jesus. What are you talking about?'"
Today, he's built a reputation not only as a Jesus Follower but also as someone who deeply cares about the lives of his students.
As Mike counsels and advises his students, training them in the industry, he always strives to help them think bigger than just the professional job of a welder.
"I don't make welders," Mikes says. "I build futures."
Maybe that future includes welding or maybe it doesn't. But for Mike, the key is helping his students learn how to live and think about their future. And "Jesus is always in every phase of it," he emphasizes.
A while back, Mike remembers opening up to a friend at church about not having a "ministry," but he was immediately cut off mid-sentence. "What are you talking about? You have a ministry and you're very good at it," his friend exclaimed. "You've got 150 kids (who) depend on you showing up every day."
And that's the truth: Mike's "ministry" is teaching welding to a group of students and adults at a local technical college. It's showing up every day and authentically reflecting God's kingdom through his words and his work.
This article is from Scatter Global