Julie
&

Julia Movie Discussion Questions

Small Group Study / Produced by partner of TOW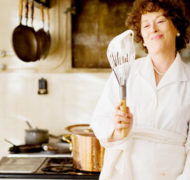 For a Bible Study that relates to the movie Julie & Julia see The Gifts of Hospitality Small Group Study. These movie discussion questions are part of the Generous Hospitality at Work Small Group Curriculum.
Watch Julie & Julia (2009) 100 minutes
Summary: This movie contrasts the life of American chef and TV personality Julia Child (played by Meryl Streep) in the early years of her culinary career, with a young writer from New York, Julie Powell (played by Amy Adams), who decides to cook all 524 recipes from Child's cookbook, Mastering the Art of French Cooking (1961), over a single year, and write about it in a blog.
The film explores a number of themes around identity, calling, relationships, hospitality, and the role of food in our lives.
Share your impressions of the movie. What impacted you most? What intrigued you? What moved you?
Julie recognizes the comfort and stability that food can bring to our lives. In what ways might this be good and in what ways might it be bad?
When Julia's husband asks her what she really likes to do, Julia flippantly replies, "Eat!" To which Paul replies, "And you're sooo good at it!" This sets in motion Julia's journey into cooking. What do you think it is that makes Julia such a great cook and hostess?
Simon Holt writes: "Eating expresses our common humanity…The truth is, food is the great leveler: it is our common need and is made to share." In what ways do you think this is true? How does this display itself in this movie?
Share about the role of food and eating with others, in your life.
If you're working in the hospitality industry, what lessons/principles does this movie underline?
Read Luke 10:38-42 (the story of Martha and Mary)
Who do you identify with most? Martha or Mary? Why?
In The Message, verse 41 has Jesus saying, "Martha, dear Martha, you're fussing far too much and getting yourself worked up over nothing." Can you recall a time when you have stressed so much about getting the food on the table for guests that you've missed the opportunity to spend time with them?
Table hospitality is about food. But it's about so much more. What are some things we can do to help ensure that we give time to both the practical and the relational elements of being hospitable?
---
---