Molokai Movie Discussion Questions
Small Group Study / Produced by partner of TOW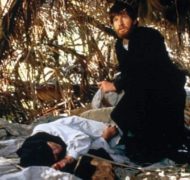 For a Bible Study that relates to the movie Molokai see the Making Room for Others Small Group Study. These movie discussion questions are part of the Generous Hospitality at Work Small Group Curriculum.
Watch Molokai: the story of Father Damian (1999) 113 minutes
Summary: Based on the true story of a Belgian priest who volunteered to minister to the leper colony on the remote Hawaiian island of Molokai. For sixteen years Father Damian helped transform a despairing, suffering, and chaotic settlement into a place of hope, beauty, and compassion. His generous hospitality resulted in Damian eventually contracting leprosy himself. He died in 1888.
Molokai explores a number of themes around physical and social suffering, prejudice and fear, compassion and hope.
Some questions that may help in your reflections and/or discussion are:
The bishop's final instruction to Father Damian before he departs for Molokai is "Remember – you are not to touch anyone…" What is the role of human touch in offering generous hospitality? What part did this play in Damian's care of the people of Molokai? What difference did his disregard for the bishop's advice make? And what was the cost?
Can you recall an incident in the gospels where Jesus also took a risk with a person with leprosy? What happened?
What are the various ways Damian offered generous hospitality to the people of Molokai?
In what way did the chapel become a house of hospitality? How did this happen?
Discuss the dynamics between Damian and his religious superiors, and the political authorities. What do you think was driving most of the tension?
Question specific to those in the hospitality industry
Are there any risks to your health or safety in your work? How do you feel about them and does or should this affect the way you approach your role and relate to guests?
Read Luke 14:1-24 (The Parable of the Great Banquet).
How do you think Damian would have understood this?
---
---