Les Miserables Movie Discussion Questions
Small Group Study / Produced by partner of TOW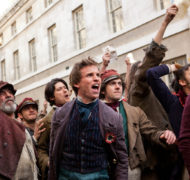 For a Bible Study that relates to the movie Les Miserables see the Recognizing Jesus Small Group Study. These movie discussion questions are part of the Generous Hospitality at Work Small Group Curriculum.​
Watch Les Miserables (2012) 158 minutes
Summary: Victor Hugo's masterful novel Les Miserables has been made into several movies, as well as one of the great musicals of all time. This most recent of film productions is a combination of both. The redemptive tale is set in the harsh struggle of early nineteenth France. It centres around Jean Valjean, a man who has spent nineteen years in hard labour for stealing a loaf of bread. Released on parole, Valjean quickly discovers the hopeless life a released convict faces – where no one will house or employ him. He is an outcast. And then, a remarkable act of hospitality changes everything…
In what ways is the Bishop of Digne's welcome of Jean Valjean transformational for the parolee?
The story is full of acts of hospitality and inhospitality. Discuss some of these and what struck you most about them.
Inspector Javert sincerely believes he is doing God's will by enforcing justice. However, he unwittingly is deeply inhospitable – with no room for grace and compassion. Those of us who are committed to Christianity can also often come across as unwelcoming and harsh. Why do you think this is the case? Is there anything we can do to change this?
An integral part of welcoming others is knowing when to also let them go. Valjean faces this with Cosette. What do you think gives him the grace to do so? And what challenges does he have in letting go?
In the end, what is it that renders Javert unable to reconcile the actions of Valjean?
Read Luke 24:13-35 (The Road to Emmaus). Take a moment to reflect on each of the following parts of the story.
"They stopped short, sadness written across their faces."
"Jesus acted as if he were going on, but they begged him, 'Stay the night with us, since it is getting late.' As they sat down to eat, [Jesus] took the bread and blessed it. Then he broke it and gave it to them."
"Suddenly their eyes were opened, and they recognized him."
"Didn't our hearts burn within us as he talked with us on the road and explained the Scriptures to us?"
---
---