Jesus Creates Harmony from Tension
Audio / Produced by The High Calling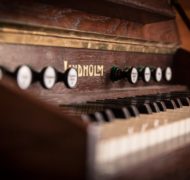 Transcript
Oberlin College once gave an honorary doctorate to Theodore Steinway—president of the company that crafted the world's most prestigious pianos.
The tribute said, "In one of their concert grands, 243 taut strings exert a pull of 40,000 pounds. Theodore Steinway offers proof that out of constant tension can come rich harmony."
This is Howard Butt, Jr., of Laity Lodge. A workplace also produces tension. Christians, however, know the piano builder. Christ promises, "Where two or three come together in my name, there am I with them." When we focus on serving him together, he makes rich harmony . . . in the high calling of our daily work.
"For where two or three come together in my name, there am I with them." (Matt. 18:20)