Woman Made
Audio / Produced by The High Calling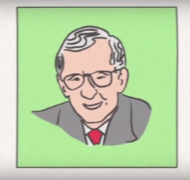 Transcript
The First Chronicles genealogy for Ephraim, son of Joseph, lists 19 sons and one daughter named Sheerah. To survive with 19 brothers, Sheerah had to be one tough lady. In fact, the Bible says she built three cities.
In an age dominated by men waging wars and destruction, Sheerah built cities. And that's the point: God chose to highlight a woman—Sheerah, a builder of cities.
This is Howard Butt, Jr., of Laity Lodge speaking to people who daily build life into families, people, careers, legacies, and cities. When you feel discouraged, picture yourself alongside Sheerah: standing in history as a builder . . . in the high calling of our daily work.
The descendants of Ephraim: ...His daughter was Sheerah, who built Lower and Upper Beth Horon as well as Uzzen Sheerah. (1 Chron. 7:20, 24)