Basement Stairs and Dark Corners
Blog / Produced by The High Calling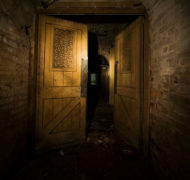 The basement was dark, damp, musty—a forbidding place where my mother kept our canned fruits and vegetables. As a young boy I dreaded, "Gary, would you please go down to the basement . . .?" Was a jar of pickles or green beans worth this? I didn't even like pickles or green beans.

Out of our house, through the garage, down the stairs into that dark basement I went whistling, singing, or talking loudly until my outstretched hand groped the light chain with a little fishing weight attached. Even in the cold light, lurking shadows fed my imagination of wild things in hidden recesses.

When I had the jar in hand, I bounded upstairs into bright sunlight and fresh air. Free at last! Once more I had survived the trip, until the next time my mother needed a jar.

In my adult life, those steps into darkness became a picture of my adult fears. Leaving for college and graduate school. Doctoral examinations. My first job. Breaking away from a controlling relationship. Fear of solitude on my first silent retreat. Conflict in our church. Counseling to deal with shadows in my life. Flying after 9/11. Sending our kids off to school. Walking with my wife through her three years of post-traumatic stress and depression.

Self-help books these days offer all kinds of psychological techniques to overcome the dark places, but they often miss the light of simple faith in God.

One of the Bible's great themes is "Do not fear!" And one of the most beautiful expressions is in the book of Isaiah, "Thus says the Lord, he who created you, O Jacob, he who formed you, O Israel: Do not fear, for I have redeemed you; I have called you by name, you are mine. When you pass through the waters, I will be with you; and through the rivers, they shall not overwhelm you; when you walk through fire you shall not be burned, and the flame shall not consume you. For I am the Lord your God, the Holy One of Israel, your Savior . . . You are precious in my sight, and honored, and I love you . . . Do not fear, for I am with you . . ." (Isaiah 43:1-5).

Powerful words to reassure people of faith. God claims us as His own and knows us by name. In our danger and adversity, God is with us. We can face our fears because we are not alone. God is there giving us the strength and courage. No matter what happens, ultimately we will not be overwhelmed or consumed.

On the night of Jesus' birth, the angelic messenger said to the shepherds in the field: "Do not be afraid; for see, I am bringing you good news of great joy for all the people: to you is born this day in the city of David a Savior, who is Christ the Lord" (Luke 2:10-11). Of this one called Jesus, the apostle Paul would later write, "Nothing will be able to separate us from the love of God in Christ Jesus our Lord" (Romans 8:39).

When we walk into dark, musty, forbidding places, God is with us. This simple truth addresses all the dark basement stairs in our lives. "Fear not," Jesus says, "for I am with you."