Being a Dad—It's Hard Work: June 15 Newsletter
Newsletter / Produced by The High Calling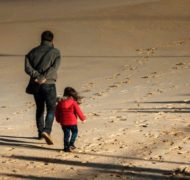 Good old Dad. He'll be happy this Sunday for Father's Day even if you buy him another tie and a pair of socks. Right?
Some of us struggle with our relationships with our dads. Others owe much more to our fathers than we can ever make up for with a tie and socks. In this newsletter we'll hear from a woman whose father put family first, and a man grateful to his dad for walking the walk of faith and not just talking the talk. And we'll let the Psalms remind us that being a parent is terribly hard and important work.
If you find relating to your father hard, remember you can always speak to your Heavenly Father who loves you unconditionally. And if you get along with Dad? Please, go find him something other than a tie.
Monday nights with dad
From The High Calling
I learned a lot by watching my dad: to him fatherhood was as important as his work outside the home.
One of the Greatest Gifts I Received From my Dad
From The High Calling
Mark Roberts speaks of the joy of watching his father genuinely live out the faith that he professed.
Participating in God's Work
From the Theology of Work Project
Psalm 113 calls for practical praise to God in all areas of life. Although the psalm could have named many kinds of work to illustrate its point, it chooses the work of raising children.