Being with Jesus
Daily Reflection / Produced by The High Calling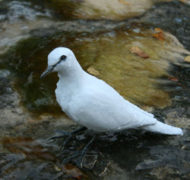 Then he appointed twelve of them and called them his apostles. They were to accompany him, and he would send them out to preach.
Mark 3:14
As Jesus preached the good news of the kingdom of God and healed the sick, his popularity grew. He was being followed by those he had specifically called and many others as well.

One day, Jesus went up a mountain and called out twelve from the larger group of his disciples. These would be apostles because Jesus would send them out to preach. (The word "apostle" comes from the Greek word meaning "one who is sent.") But the twelve whom Jesus identified were not just entering a preacher's training program. At the center of their calling, they were to "accompany" Jesus. The Greek reads more simply, that they were "to be with him."

This passage underscores the relational core of discipleship. We who follow Jesus are to learn his teaching. We are also to learn how to do his works. But the center of discipleship isn't gaining theological knowledge or practical ministry skills. Rather, it is being with Jesus.

Sometimes we Christians forget this. We can get so wrapped up in learning about Jesus that we neglect to spend time with him in prayer and worship. Or we get so involved in the good works of the Christian life that we don't have time to be quiet in the presence of Christ. Theological growth and acts of love are essential to the full Christian life, but they only find their rightful place in the context of a central, vital relationship with God through Christ.

QUESTIONS FOR REFLECTION: How do you spend time with Jesus? What aspects of life, even of the Christian life, can take away from your relationship with God? What helps you to know God more deeply and truly?
PRAYER: Dear Lord, today I'm reminded that the core of being a Christian is relationship with you. Even as you once called the twelve to be with you, so you have called me. What a joy and privilege! Thank you.

Of course, I can't spend time with you in the flesh. How I wish I could! You are with me in different ways today: in worship services and small groups in Bible study and prayer, in works of charity and service, in the loving community of your people. Help me, dear Lord, to be aware of your presence in these and other contexts. Keep me from becoming so wrapped up in ideas or actions that I neglect my relationship with you.

Thank you, Lord, for your Spirit, who dwells within me. Though you are not physically present with me, you are here, so that I might be with you. What a gift you have given me! Amen.

Image courtesy of Laity Lodge, one of our sister programs in the Foundations for Laity Renewal.